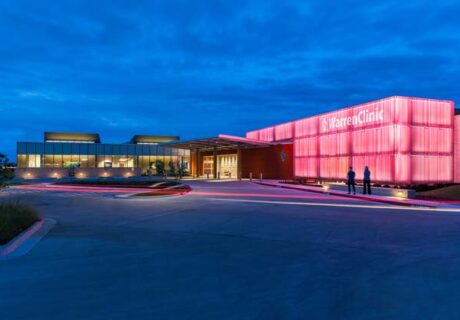 Merit Award – Healthcare Design Presentation 2021
CallisonRTKL has partnered with Saint Francis Health System to design their outpatient model and expertise and brand. Our team developed a prototype design for the clinic, transforming the traditional model from the inside out and allowing it to be easily adapted into different configurations for different locations around Tulsa.
Capitalizing on the advantages of this modular design, the unique on-stage/off-theater approach enhances collaboration through an inclusive "team-home" area for staff while providing patients with opportunities for privacy and comfort – elevating the experience for all users. On stage, visitors enter the clinic into the exhibition space and are escorted to the decentralized waiting areas outside each exam room. Off-stage, work-at-home team areas are created for employees to collaborate, giving employees direct access to each exam room, and remaining separate from visitors, ensuring increased patient confidentiality and efficiencies. Additionally, this on-stage/off-theatre approach reduces the risk of unnecessary patient interaction often found in the typical mass waiting room concept—a critical consideration in healthcare design today.
Using natural light as the primary driver, the modular approach maximizes visual access to the outdoor courtyards and light for both visitors and staff. "Light from above" was the main theme that resonated throughout the design. Daylighting begins for visitors from the moment they enter the clinic, through a light-filled exhibition area. Once visitors reach their exam room, they are either seated outside the room or escorted inside. While sitting outside, you have direct views of the outside with floor-to-ceiling glass walls. Inside each exam room, natural light enters through the painted glass on top. In the staff's secret home team area, natural light floods the space via two skylights above them that span the entire length of the space.
The main objective of the Warren Clinic was to establish and strengthen association with the St. Francis Health System brand in communities that may not have already existed. The Warren Clinic brand is enhanced by incorporating a rose-colored glass wall, an element that people can identify and interact with as they approach the site. As a glowing beacon at night, the ancient wall reinforces the clinic's connection to the community it serves.
"The new on-stage/off-stage model works very well and has improved staff efficiency and everyone's satisfaction. We have received positive feedback from our patients about how quiet the venue is; they love having access to natural light all the time. The design of the clinic and the new model have enabled our team to Provide a higher level of patient care in our service area across Northeast Oklahoma," says Colin Henry, vice president of The Warren Clinic.
Project Category: new construction
operation manager: Jake Henry Jr., President and CEO, Saint Francis Health System
institution: CallisonRTKL, www.callisonrtkl.com
design team: CallisonRTKL (Master Planning, Architecture, Design and Planning, Interior Design)
Total Building Area (Square Feet): 14,642
Construction cost / square meter. Foot: $362
Total construction cost (excluding land): $5.3 million
complete: February 2018