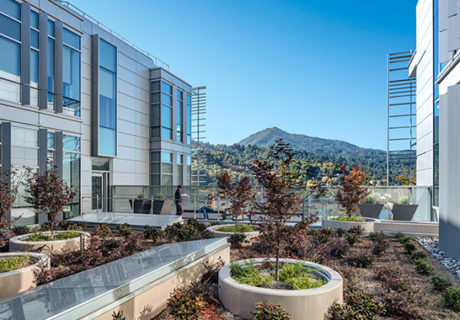 Across from the Golden Gate Bridge from San Francisco, Marin County offers a stunning natural setting that has long drawn in townspeople looking for more space and a direct connection to nature. Marin County Hospital, Marine Health Medical Center (formerly Marine General) in Greenbra, California, takes advantage of those exceptional surroundings with views of Mount Tamalpais, the county's highest peak; Corte Madeira Creek and an adjacent 27-acre park.
When the time came to address California's 2030 earthquake compliance standards, the healthcare organization decided to replace the old hospital with a new 265,000-square-foot facility called Oak Pavilion, which resulted in the relocation of the majority of hospital essential services and inpatient beds here while still communicating with some of the existing campus buildings. The new acute care facility will be designed to improve and enhance the patient and staff experience with larger rooms, modern materials and color palettes, and clinical spaces designed to accommodate new technology and treatments, all while enhancing connections to the natural beauty outside through dynamic design. . Says Jason Haim, Director and CEO at Perkins Eastman (Los Angeles), who worked as an architect and healthcare planner for the project. "After all, people move to Marin to be in contact with nature, so you can't take that too far from them in a building where they're looking for care."
The healthcare organization was on board with the goal, too, to work closely with architects to bring the outdoors in. "MarinHealth is committed to providing an exceptional healing environment, so harnessing the natural healing power has always been central to the design process for Oak Pavilion," says Vernon Moreno, Vice President of Support Services at Marine Health Medical Center.
natural environment
The new $ 315 million facility, which opened in August 2020, includes 171 private patient rooms, six operating rooms / interventional suites, new radiology and imaging services, a larger emergency department and a trauma center. The four-storey building is divided into two sides and features nature-inspired design details throughout. "Contact with nature has been shown to be effective in treating patients and their well-being in a hospital setting," says Joe Ronco, director at SWA Group (San Francisco), landscape architects on the project. "The new hospital design ensures that patients and staff can see and / or access nature in both the site's stunning natural environment as well as more controlled rooftop garden spaces."
Starting on the outside, the building is covered in glass and metal panels featuring front porches and a multi-level green roof terrace between its sides that is accessible to patients and staff and features planting beds and raised chairs. Indoor / outdoor solariums are located in all patient units, and are light-filled 'living rooms' topped by circular skylights and connected to balconies, giving patients and their families the option to go out even when attached to a venous column. Chaim. The spacious staff lounges are located next to the solariums, a sunny contrast from those in the old buildings, which included small windows, likewise providing nurses with a chance to quickly get out and breathe fresh air through the solariums.
In patient rooms, floor-to-ceiling windows provide natural daylight and unobstructed views of the surroundings or gardens and terraces. "Anywhere you look outside the patient's room, you will not see anything but green," Haim says. To amplify the views even further as well as help patients, staff, and families orient themselves in the building, the project team incorporated wide glass throughout the public spaces, even at the ends of the corridors.
On the north side of the building, a 6,300-square-foot garden on the roof of the loading dock provides views of the farms from adjacent hospital rooms, while the tiered sunken garden includes natural rocks, which act as retaining walls, as well as lower and upper patios with benches and a variety of plantings. . "We have arranged all the waiting rooms for imaging, surgery, maternity care and patient units around that area to revitalize them," Haim says.
See and feel
Besides easing the clinical environment by shifting focus to the natural environment, the interior supports biophilic principles through the use of finishes such as natural wood tones and colors inspired by nature, such as green and brown inspired by Marin headlands, says Barbara Best -Santos, director at Forrest Perkins (San Francisco), an interior design studio that merged with Perkins Eastman in 2016 and served as a consultant on the project. "He's very quiet," says Best Santos. "Don't see the bright pops." Moreover, the furniture is arranged in groups rather than solid lines "to create a more attractive, almost hotel-like design," she says.
An extensive art program was also an integral part of the design, with 240 pieces by 52 artists (many of them from Marin) incorporated, in public spaces as well as in employee lounges. "The landscape and surrounding environment are one of Marin's greatest assets and one of the elements that make MarinHealth's design and tone distinct and unique," says Judy Bronk Knowlton, director of Artsource Consulting (San Francisco). The project. "Art celebrates and reinforces these assets." Among the wide range of works "Bloom" by Katie Stone, which the artist says refers to a hillside filled with poppies in California, or a site-specific series of 50 individual paintings by Bay Area artist Michael McConnell depicting animal life in the area.
In addition to aesthetics, the project has also worked to improve operational efficiency, taking advantage of the seismic upgrade to "appropriate size" for clinical areas and hospital staff, we are well. "In the old building, we were on top of each other," says Karen Rees, chief nursing officer and chief administrative officer at Marine Health Medical Center. Most of the patient rooms that are there are 50 percent of what they are [should be] According to current size standards, Haim adds, and also semi-private. As a result, the new building houses 114 private patient rooms, with an area of ​​1,150 square feet per medical / surgical bed. In addition, the emergency department has nearly tripled in size to 17,500 square feet with five trauma rooms and 20 special patient rooms, including negative pressure and decontamination rooms to safely care for severely infected patients. Three new operating rooms, two of which can accommodate robot-assisted procedures, and an extensive recovery area have been added to the existing surgical ward. Efforts have also been made to place interconnected sections close to each other to improve patient flow, such as radiology and imaging next to the emergency department, while separate corridors and elevators have been established for the public and staff to deal with infection control and patient privacy.
Biophilia is the future
Over the next few years, improvements will continue on the MarinHealth Medical Center campus. A futuristic atrium addition will feature a rock garden in the foreground, designed in coordination with the park in the sunken Oak Pavilion "to allow the visitor to feel as if the hospital has been placed in the natural environment of Marin," Haim says. Once achieved, the lobby and front garden will complete the project team's overall view of the biophilia.
"We believe that attachment to nature provides a direct benefit to wellness and stress reduction; it is clearly an important factor in caring for patients and managing beds during stressful times," Haim says. "Our focus on biophilia helps MarinHealth Medical Center buildings influence patients in a positive way."
Click on the roof
Part of the design focus of the oak pavilion at Marine Health Medical Center was energy saving. Combined with the aluminum canopy system on the façade, three rooftop gardens contribute to the building's ability to use 51 percent less energy than the previous facility. Joe Ronco, principal of the school, says green roofs contribute to energy savings in a number of ways SWA Group (San Francisco), the landscape architects on the project. First, he says, natural green spaces are less reflective and reduce glare and heat normally emitted from traditional surfaces. Second, since the surface is covered with living plants that filter water, there is a natural cooling effect from transpiration / evaporation of water from plants. Finally, the layers of soil and vegetation provide additional insulation compared to conventional roofs. As a result, Ronco says, "the roof remains at a more constant temperature than high fluctuations often with other types of roofs."
Project details:
Project name: The Oak Pavilion at Marine Health Medical Center
Project completion date: September 2020
Owner: Marine Healthcare District
Total building area: 265,000 sq ft.
Total construction cost: $ 315 million
Cost / square meter. Feet: $ 1,190
Architecture: Perkins Eastman (design engineer, record engineer, healthcare planner)
Interior Design: IA Interior Architects, ForrestPerkins
Design Building Contractor: McCarthy Construction Company, Inc.
Structural Engineers: KPFF
MEP: Mazzetti Engineers
Civil Engineers: KPFF
Geotechnical Engineers: Fugro
Design Building Contractor: McCarthy Construction Company, Inc.
Art Consultant: Art Source
Equipment / Electronics / Audio-visual software: JCI / Wood Harbinger
Carpets / Flooring: Jonesonnet, Shaw
Ceiling / Wall Systems: Armstrong Ceiling Systems, USG
Doors / Locks / Hardware: Assa Abloy
Fabric / Textiles: DesignTex
Furniture – Seating / Storage Boxes: PeopleSpace
Handrails / Wall Protectors: Inpro
Lighting: studio lighting (interior lighting), DSA (site lighting)
Signage / Road: Propp + Guerin
Hard Surfaces / Other: Corian, Avonite
Wall Coverings: Sherwin Williams
Landscape Architect: SWA Group
Medical Equipment Planning: CallisonRTKL, McCarthy Building Company, Inc.
Shielding Consultant: Therapeutic Physics
Sustainability / LEED
Consultants: Thorton Tomesetti