"This isn't a TGR movie, we're pretty much keeping it," said Matt Boone, soft-spoken Avalanche Forecaster, resident of Wyoming, and this week's heli-skiing guide. Near ten in the morning on our first day in Alaska, I naively believed him.
After a 45-minute safety briefing that covered everything from avalanches to helicopter beheadings, I got scared, but used goggles and a mask to mask the nerves. We did a quick signal exercise and an airbag pack tutorial, then followed the others into the waiting helicopter. Twisting tightly, you nodded to the pilot, a Frenchman named Jean-Louis.
It is located thirty miles inland from the Pacific Ocean, Valdez Heli Ski Guides It is located in the heart of the Chugach Mountains surrounded by steep peaks with 4,000-foot drop-offs burning in the leg. Headquarters for the operation, Tsaina Lodge was founded over thirty years ago by the famous freestyle skater Doug Combs. In the years that followed, it established itself as Alaska's first ever heli-ski. Most of the guides have worked in Valdez Heli for decades, and each has thousands of steep slopes to prove their expertise.
At least, that's what the brochure said. I wanted to see for myself.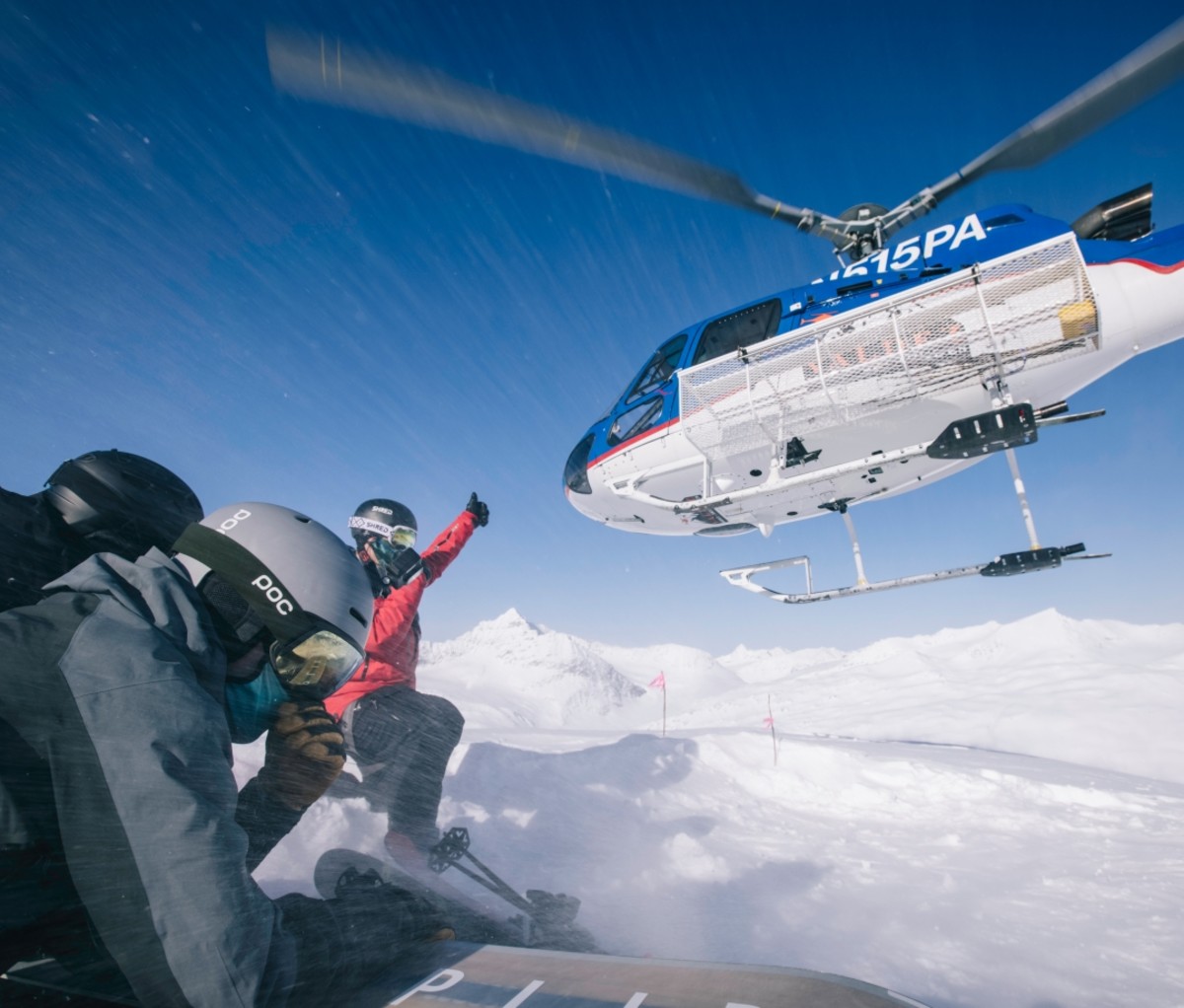 straight to the top
After ten minutes and several serpentine banking cycles in the helicopters, we landed, although "landing" is a relative term. The front of the cockpit was suspended two feet from a 2,000-foot cliff, and the tail was sitting precariously atop a large cornice. My only sense of security came from Jean-Louis' calm demeanor. He counterbalanced a helicopter gliding over snowy hills on his first try, like a parent dropping their kids off at middle school.
He signaled us to leave. I followed the instructions, disassembled the cage, put one shoe on a sled, lowered my head, and jumped cautiously into the void, praying that the snow under my feet would not give way. You probably wouldn't read this story if you did.
The wind was calm but the spinning lye kicked the snow around like a hurricane. The rationale side of my mind argued that the whole heli-skiing experience was a terrible idea, but that the other half, a 12-year-old boy, would win. Matt emptied our skis from the basket, put them in the snow in front of us, and Jean-Louis pointed his thumbs up, indicating that it was safe to take off. When I watched the machine fly out of sight, I scanned the horizon for the first time. There are no people, trees, animals, or any signs of life. Just falling snow and jagged mountaintops provoke fear.
Looking back, that first landing was probably a lot safer than I felt at the moment. Over the course of the week we skied over thirty laps, and each time we got more used to the pilot and guide styles as they explored good snow, safe landing spots, and fun ski lines. After a day or two, it became clear that this business was old hat to both Matt and Jean-Louis, along with the rest of the guides.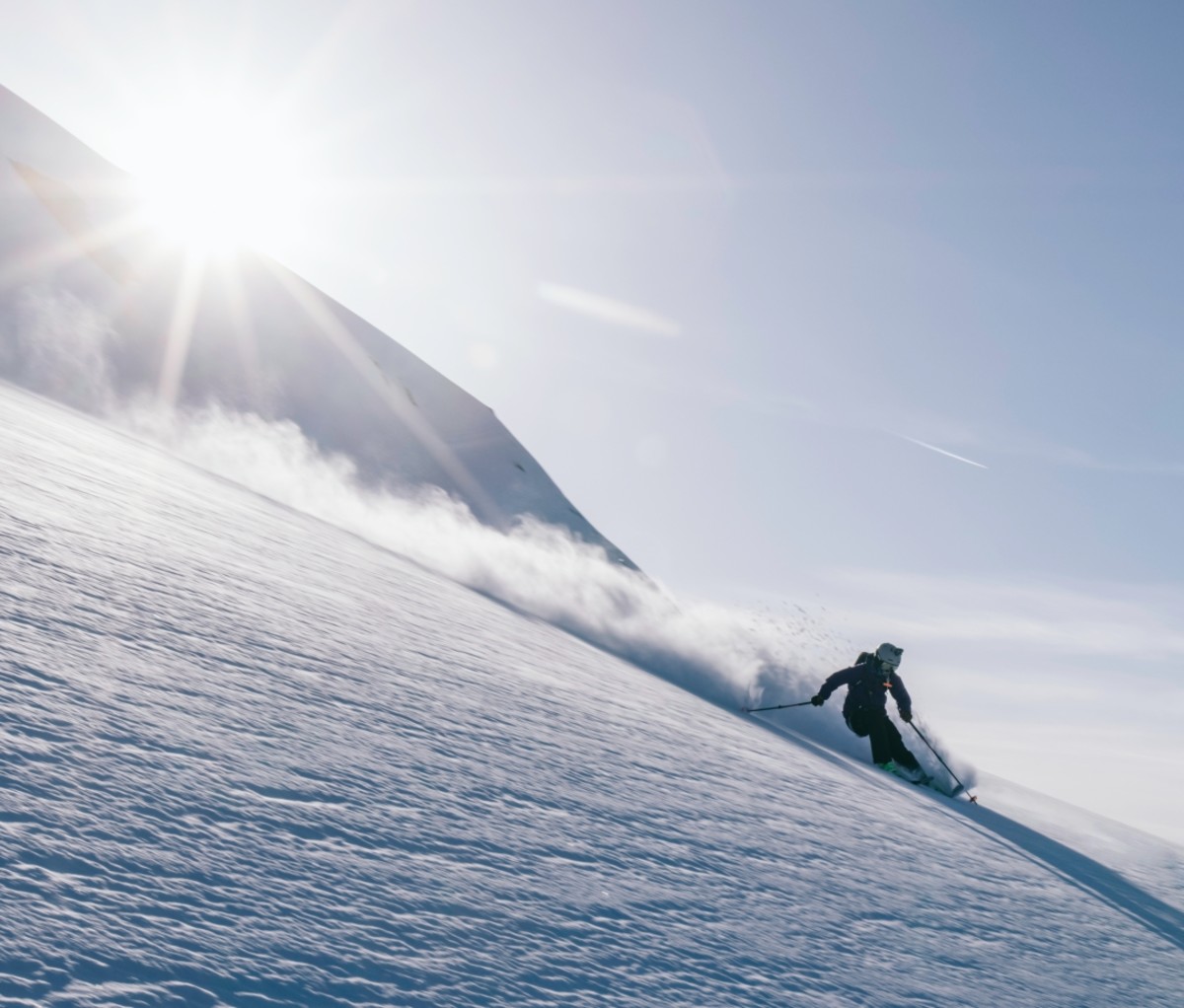 first turns
Clicking my sled, the excitement began to build up and the nerves faded. Choppers are relatively new to me, but fat powder skis are not. I threw on my airbag pack and laughed silently to myself, thinking how lucky I was to be here, standing at the top of a ridge with only three others, seconds before the best skiing of my life.
Matt calmly explained the best lines for us to ski and the potential dangers ahead, all in fewer words than this sentence. No one was for poetic polishing, so he nodded at us and acknowledged us back. Then he led the way, carving controlled turns, and leaving a bulging pillar in his wake. What he missed died in the social chatter he made up for in a smooth style on skis. Watching the snow turn to smoke in front of us, it was impossible not to scream and get excited.
We went down one by one, spreading out an average of 30 seconds. The goal of the first lap was to get our legs under us. We followed a low-angle bottom line from the summit all the way to the bottom of the icy valley. This gave the three of us a chance to get a feel of the terrain and see a bit of the moraine without too many consequences. We took our time in the first few runs and slowly built confidence in settling under our boards.
We got together as a group at the bottom of the first round, we didn't say much to each other. Our mouths and minds droop, it only took one downhill to understand why so many people are so addicted to helicopter skiing, especially here in Alaska. While most life involves stability and routine, heli-skiing opens you up to a more innate desire: to feel alive.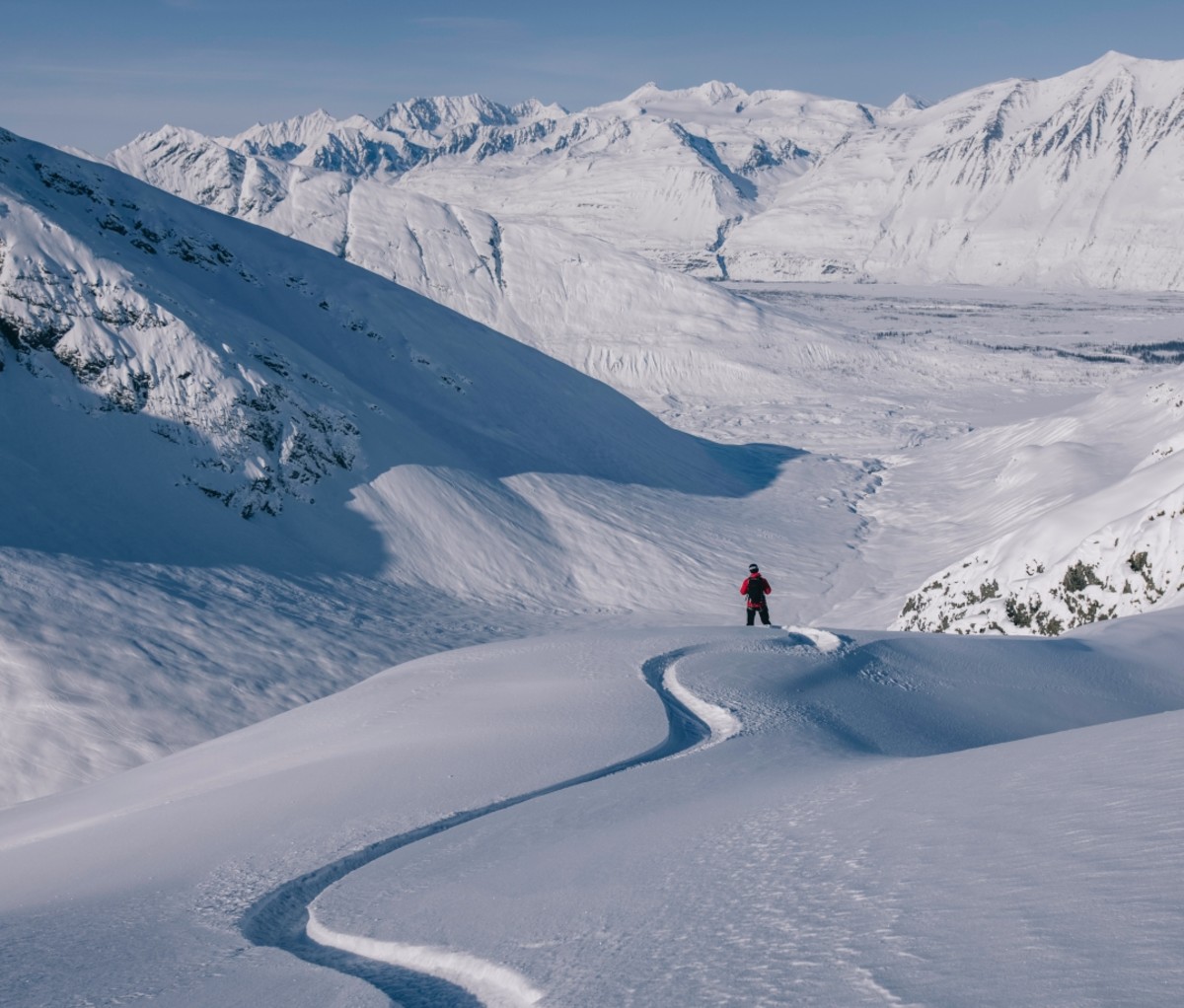 Untouched powder rolls
When our skis and gear were organized into a pile, Matt radioed to Jean-Louis and within a few minutes we were back by air again, looking for a new skate line. These short treks, or "bumps," as the guides call them, can sometimes be just a quick hop across the valley, but they can also involve multiple loops to find a safe and convincing line.
We watched curiously as Jean-Louis and Matt chatted in headphones, pointed at the slopes, and raised their necks from side to side. At first I found this a bit ridiculous. Isn't everyone getting new trails in Alaska? But as the days went by, I realized how important this part of the equation is. Wind and sun exposure can break down good snow quickly. In addition, if you are going to fly in a helicopter, you should look for the best things.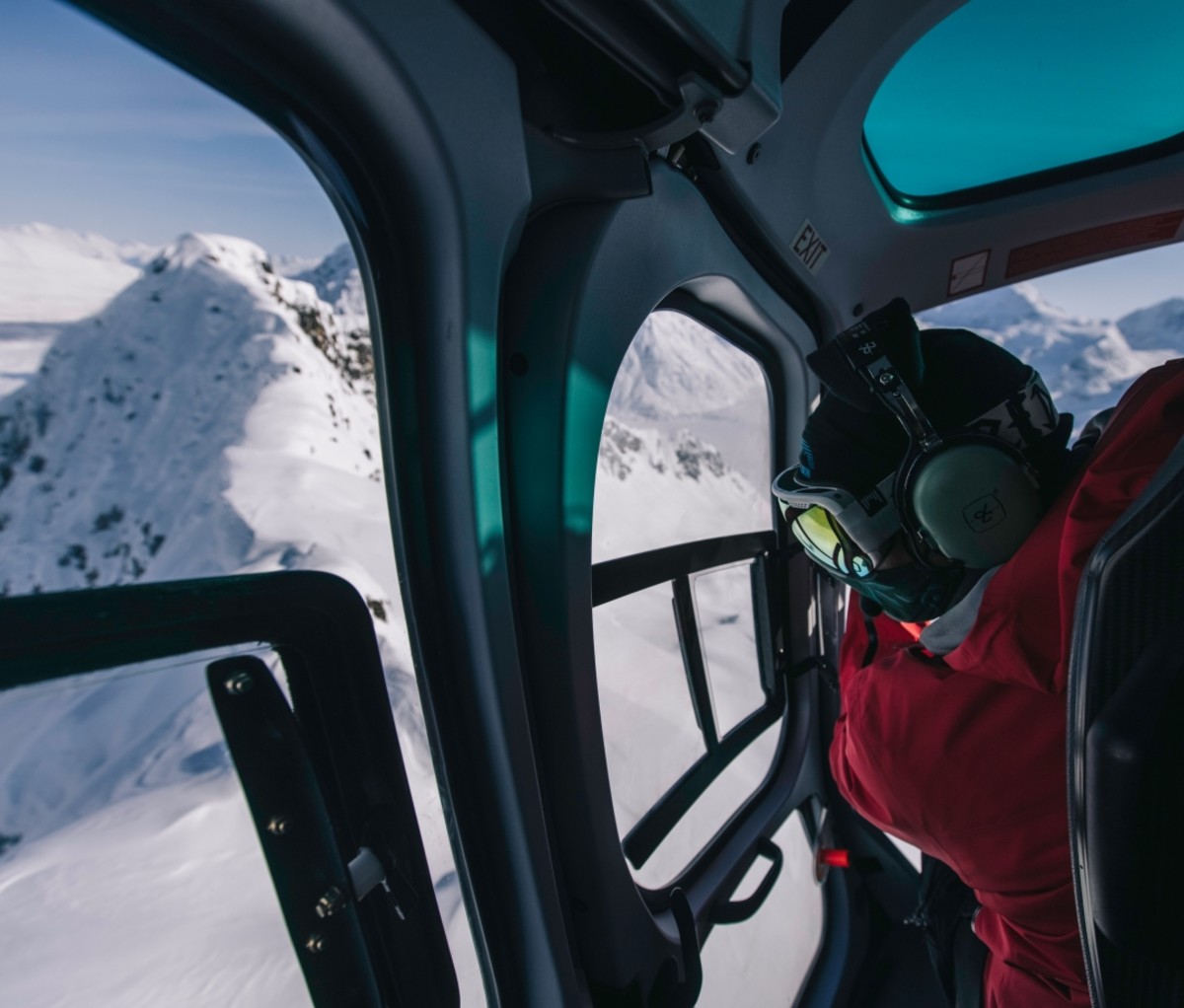 The next three rolls were similar to the first, if not better. We stayed mostly in the shaded north sides, trying to avoid the marginal snow. At these northern latitudes, the tree line is a few thousand feet above sea level, and we were topping about seven or eight thousand feet. Without trees, even relatively minor gusts of wind can quickly change the surface of the snow, making skiing less than ideal.
As the day progressed, we moved to steeper terrain, often ski lines one after the other from top to bottom, to mitigate the risk of multiple people falling into the same avalanche (if one did). Nothing we've been skiing has come close to the thorns and slopes you see in the movies – and I was grateful for that, because those things are way above my salary.
However, those turns were some of the best of my life. We've been hitting knee-deep powder for thousands of feet, then rinse and repeat. We had been living a dream for a week, and we were determined to suck it up.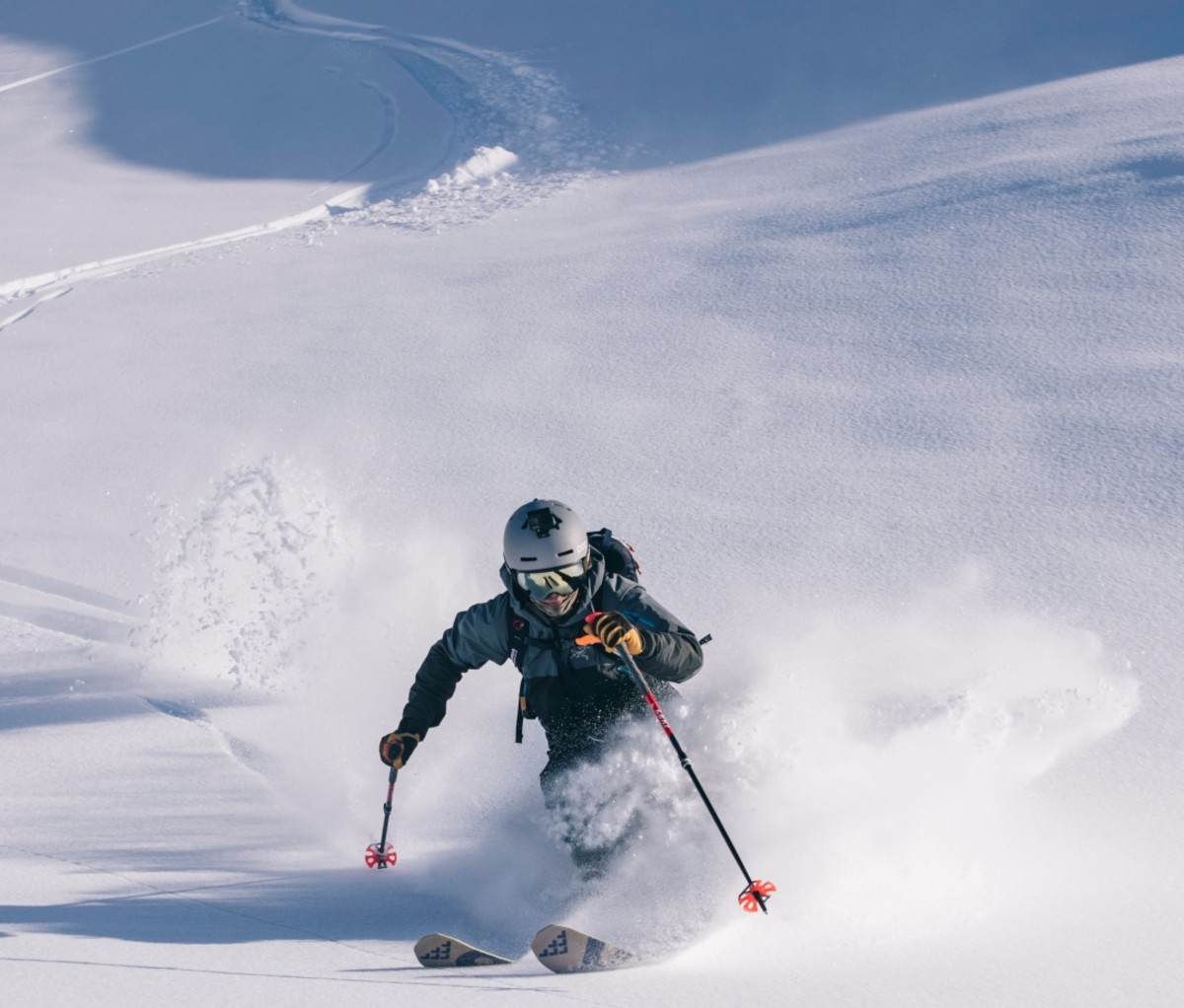 get downhill
Late lunch at 2:30pm and we finally had our first steady moment of the day. I sat on my skis and looked down the huge canyon, taking a while to realize how lucky I was to be there. A second later, Matt handed each of us a small box of roast beef sandwiches and cookies, which we consumed in seconds. I didn't realize how hungry I was until the first bite; I haven't had food or a sip of water all day. Between the early nerves and excitement of skating on powder coat, I had forgotten about everything else.
Matt explained that we had another three hours before our hard stop, or we could go home early if anyone got tired. I almost laughed. We were going from bell to bell.
We heard the distant hum of the helicopter's blades, and then spotted Jean-Louis returning from refueling at the inn. We hit once and landed, and climbed inside. Even after half a day of this experience, the movements were starting to look normal.
Wanting to get away from the midday sun for better snow, Matt directed the helicopter into a new valley with a handful of steep lines. At first I did not think it was possible to reach them – a large cornice protected their entrance. But Matt had other ideas and signaled us to be on the top line.
Outside of helicopters with skis, we heard the demo version I was expecting but not hoping. We would drop carefully over the steep icy ledge, swerve hard to the right to avoid a large cliff range, then ski down a waterfall to the valley floor, avoiding hard debris from earlier apron slips. Mom, if you're reading this, it's just as bad as it sounds. I said I don't want to be the back seat driver.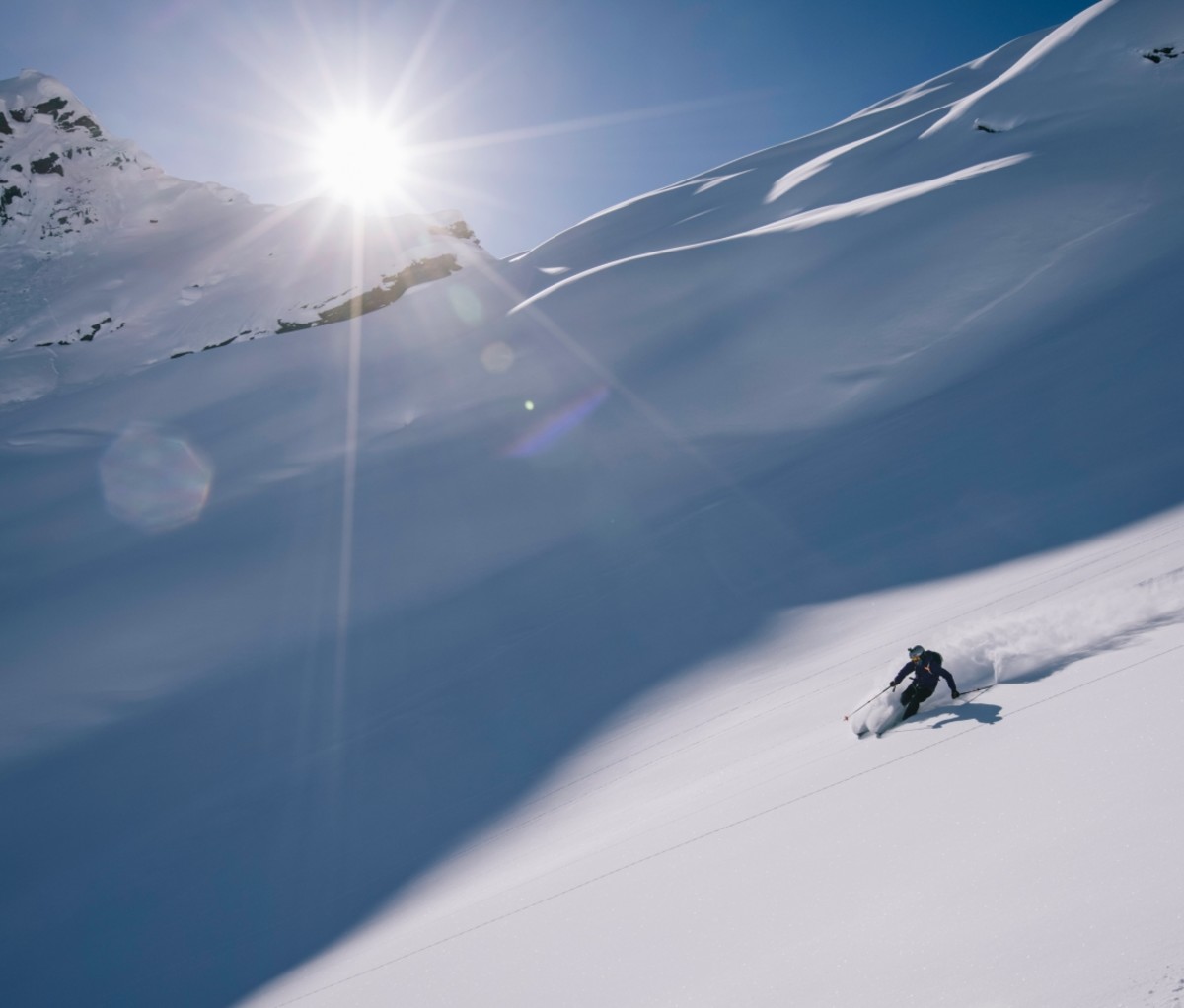 After a quick radio check, Matt came in first. We watched him glide gracefully across the drop and crossing, then he disappeared from view in the second half of the descent. I felt nerves return. My legs started shaking a little and my jokes became less funny. Sure, this wasn't the most technical terrain I've skied on, but something about the remoteness and grandeur of the place put me in my place.
I have three options: go all out, wishing to stick to the drop, a controlled fall with edges battling to buy as soon as possible, or my final choice: butt awkwardly to the edge and cut a clumsy eight-foot drop. Safety sometimes takes precedence over grace. Skates on the slope, I take a deep breath, do a quick crossover, and gain confidence as the hard bag turns into a fine, firm powder. Then she returned to a world I know so well: left, right, left, right.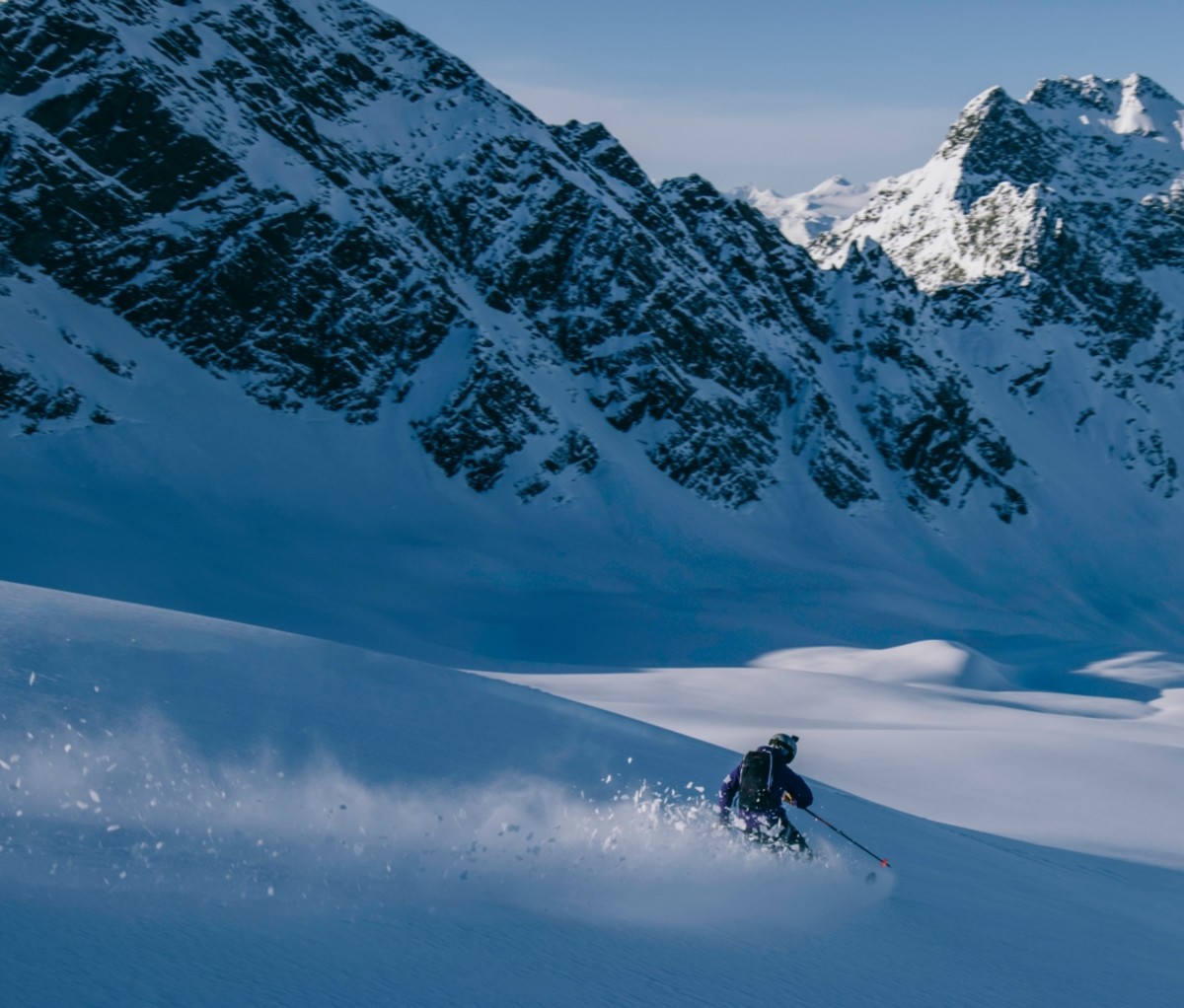 Alaska: unlike anything else
I often say that skiing is the same as flying. There's a lightness to it unlike anything else you've done: You're stuck somewhere between settling down and falling. Once I found my rhythm, this is how I felt – I lean back and forth and let the skates do the rest.
After three more laps, we'd call it a day. My legs and mind felt like mashed potatoes. While I'm fortunate to live in Jackson Hole and tour some of the best powder in the Lower 48, Alaska lives up to the hype: great lines, champ snow, and absolutely pristine descents that make you feel like you're the only person ever to ski on those peaks.
If you never give it a chance, heli-skiing is well worth it. And then some.

To access exclusive gear videos, celebrity interviews, and more, Subscribe to YouTube!