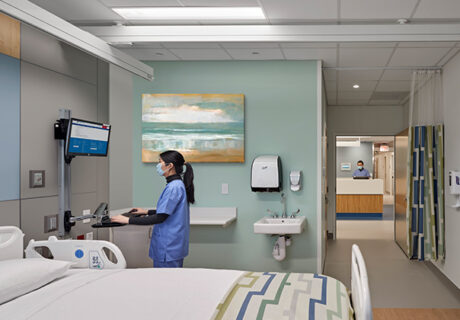 St. Elizabeth Medical Center Boston, a Boston University teaching hospital, is a 308-bed medical center, with healthcare specialties ranging from cardiac surgery to neonatology. A new Medicine/Surgical unit was added in April 2021 to help meet the growing demand for care in the community.
The unit is located on the sixth floor of the hospital's Connell Building, which was built in 2009 with space included within the upper floor to add beds for patients later when demand is increased. While the conceptual design of this unit was completed in previous years, the hospital did not begin the full design in earnest until March 2020. The overall organization of the unit provides separate circulation paths for patients and staff with an emphasis on noise reduction for patients and their guests. Patient rooms also feature current best-practice design solutions to reduce the transmission of airborne and surface pathogens, given the growing concerns about these releases amid the COVID-19 pandemic.
Led by the design team at head (Boston), the completion of this new medical/surgical unit added 16 patient beds, including two large isolation rooms, to the hospital's 140 medical/clinical beds. The project is designed in 30 days to add flexible, adaptive rooms with visual acuity as quickly as possible to support Brighton's growing community. Then the unit was built in just eight months Building Tips (Boston).
Project details:
Facility Name: St. Elizabeth Medical Center Medical/Surgical Unit
Location: Brighton, Massachusetts.
Completion date: April 2021
Owner: St. Elizabeth Medical Center (Steward Health Care)
Total building area: 9,730 square feet.
Total construction cost: $6.3 million
Cost / square meter. ft: $647/sq ft.
Architect: HED
Interior Designer: HED
Contractor: Cossigli Construction
Engineers: BR + A (MEP), Goldstein Milano (Structural)
Construction: Consigli Construction Company