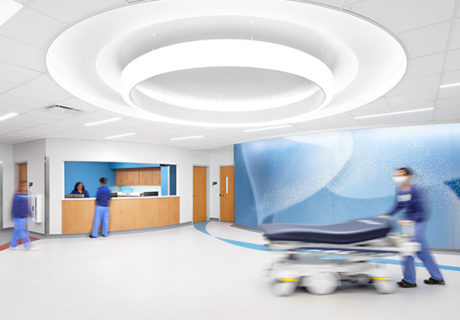 Rochester Regional Health in Rochester, New York, in partnership with CPL (Rochester, New York) W. LeChase construction (Rochester) for more than five years to develop a plan to help the organization provide better care for the elderly and future generations. The result is the 312,000-square-foot Sands Constellation Critical Care Center at Rochester General Hospital, which opened in October 2020. The addition includes a new Surgical Care Center with operating rooms, women's health and neonatal wards, and 108 private patient rooms that are adaptable to emergencies. .
All patient rooms and public areas are designed with an interior color palette that reflects Lake Ontario. Different shades of cool blue are used against a contrasting warm wood. An abundance of natural light and nature-inspired graphics contribute to a therapeutic environment for patients and families and a bright and vibrant space for staff. Attention to an aging population has paid some design, lighting and color decisions. In pursuit of a timeless design, he restricted the use of bold colors and modern decorative elements to more easily altered materials and finishes.
Additionally, the building is under review for LEED Healthcare certification. Every product and material had sustainability in mind – from floor glue, to drywall components and ceiling systems. Additionally, recycled materials have been upgraded wherever possible.
Plans were in place for the facility prior to COVID-19; Nonetheless, the design flexibility provides internal flexibility that has greatly aided in disease management:
The addition of adaptive beds in the community allowed the Rochester Regional Health Foundation to manage the fall and winter influx of critical patients with COVID-19.
When the ORs are not in use, the indigo lights turn on automatically to sterilize all surfaces from bacteria.
The air that passes through the treatments is irradiated with UV rays, which reduces the circulation of germs.
The new aseptic treatment unit introduces new technology to boost infection prevention efforts across the hospital. With a much larger area than its previous location, the new aseptic treatment center is equipped with seven state-of-the-art steam sterilizers to ensure instrument sterilization and sterilization, and an endoscope reprocessing system that cleans and disinfects the scopes with minimal human intervention.
Project details:
Facility name: Rochester General Hospital Sands Constellation Critical Care Center
Location Rochester, New York
End date: October 2020
Owner: Rochester Regional Health
Total construction area: 312,000 square feet.
Total construction cost: $ 250 million
Cost / square meter. Foot: $ 485 with location and enablement, $ 455 without
Architectural firm: CPL
Interior design: CPL
General Contractor: LeChase Construction
Engineering: CPL
Builder: LeChase Construction