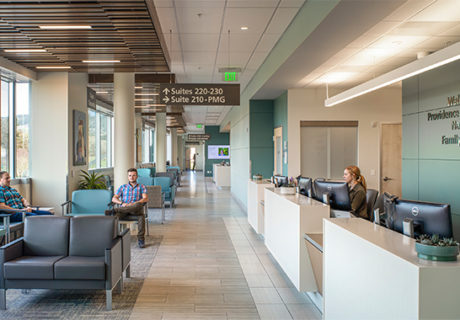 In 2006 after Providence Health and Services (Newberg, Ore.) Providence Medical Center Newberg opened in Newberg, increasing the number of patients, creating the need for additional outpatient services to be provided on campus. As a result, the three-story Providence Newberg Medical Plaza with 64,000 square feet opened in January 2020.
Led by an architecture firm JRJ Architects (Portland, Oregon), the project team had two major design goals. First, the leadership wanted to retain, but modernize, the "brick brand identifier" of the sanitary system, which was achieved through the combination of metallic wall curtains and generous windows for a newer, more modern aesthetic. To architecturally connect the new facility to the current hospital and any future buildings, the team has also incorporated the branding brick into the back side of the structure. Second, the team worked to preserve sweeping views of the Willamette Valley that the hospital's patients and staff enjoyed. Additionally, the generous use of wood, glass and steel design features helped bring natural light and elements into the building.
Inpatient clinics and services include family medicine, internal medicine, therapy and cardiac rehabilitation, laboratories, cancer center, pharmacy, nutritional services, and conference center.
Work with an interior design firm Bainbridge (Portland), all interior design elements closely follow Providence's established brand standards. The team focused on selecting materials to create useful transitions to help define patient areas such as check-in and waiting rooms. A custom timber ceiling pattern was also installed at the main entrance and transported throughout each clinic area, with the same element used on the face of each elevator to create a consistent path marking.
Upon completion, the new building brought in many of the previously off-site sections of the campus and gave Providence the ability to offer more integrated and improved services to Newberg and the surrounding communities.
Project details:
Facility name: Providence Newberg Medical Plaza
Location: Newberg, Ore.
End date: January 2020
Owner: Providence Health & Services
Total building area: 64,000 sq. Ft.
Total construction cost: $ 28 million
Cost / square meter. Feet: $ 437.50 / sq ft (including basic shell and website work)
Architecture Firm: JRJ Architects
Interior design: Bainbridge
General Contractor: Fortis Construction
Engineering: Catena Engineering (Structural), KPFF Engineering (Civil)