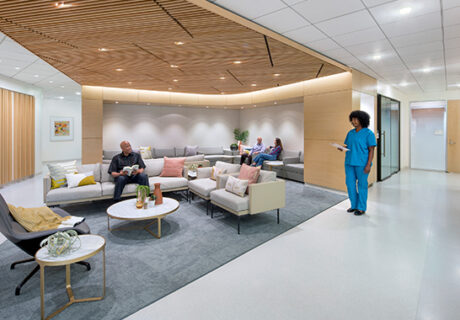 Cedars-Sinai Ventana Cancer Clinic in Tarzana, California offers oncology services in the heart of suburban Los Angeles. The community-based location relieves stress for patients who commute to the main campus at Cedars-Sinai in Beverly Hills and the frequently crowded area for ongoing cancer treatment, saving time and reducing stress.
As a tenant improvement project, the shape of the existing floorboard and the client's need for a light-filled upscale space posed challenges in the design. The ZGF The Los Angeles team presented a solution that prioritized planning by type of space. This placed a large pumping room in a window-covered area, which further planned the rest of the spaces.
By placing the main reception and waiting area next to the injection room, divided only by frosted glass, daylight streams through the center to create a sense of natural light in a large windowless area.
Custom injection nozzles, similar to first-class aircraft seats, are grouped in radiator configurations. The soft glow from prominent lamps in each bay adds to a sense of comfortable upscale hospitality, resulting in a design that provides privacy without losing a sense of connectedness – accommodating patients who prefer solitude, while allowing patients who like to mingle to sit close to one another.
Project details:
Facility Name: Cedars-Sinai Ventana Cancer Care Clinic
Location: Tarzana, California.
End date: March 2020
Owner: Cedars Sinai
Total building area: 29,447 square feet.
Total construction cost: N/A
Cost / square meter. Feet: N/A
Architectural firm: N/A (Tenant Interior Decoration Improvement Project)
Interior Design: ZGF
General Contractor: Pacific National Group
Engineering: Syska Hennessy Group Inc.