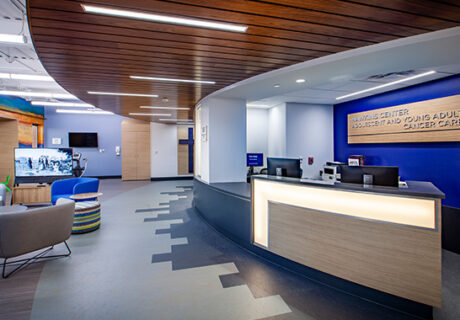 Bon Secours St. realized. Francis Downtown in Greenville, South Carolina, finds that teens and young adults battling cancer often do not receive the type of treatment and hospital placement that is in line with their developmental needs during a critical stage in life. Children's hospitals and adult oncology departments leave them isolated, receiving the same medical care that young children or the elderly get.
Under the guidance of a patient advisory board and through exploratory sessions of patient and caregiver feedback, Architect Macmillan Bazdan Smith (Greenville, SC) to renovate a 26-bed former medical oncology nursing unit to meet the unique needs of this population. The result was the Adolescent and Young Adult (AYA) Cancer Center at Bon Secours St. Francis designed to meet the unique needs of teen and young cancer patients.
The design team initially created the public/private duo familiar in any home, separating caregiver spaces from community-focused spaces. This helps patients feel more comfortable interacting with their peers in an open and inviting living area designed to help them decompress and connect with one another. A local muralist turned an entire wall into a painting of a vista of the nearby Blue Ridge Mountains, and the decor surrounding the center includes local depictions of natural environments.
Game rooms and rest areas with musical instruments and laptops were also added to enhance community and encourage social interaction, helping teen patients feel like teens during their stay in the hospital. User optimized environmental control systems, daily circadian lighting, a wide range of seating options and technology shape individual end user experiences to create a therapeutic experience unlike most sterile clinical environments.
The nurses' workstations are located further away, hidden by the front desk at the entrance, giving the nursing team quick access to other parts of the hospital while separating the clinical spaces from the social spaces and bringing guests into the central 'living room'. This spacious central area offers soft furnishing, modular seating, family restroom, rest areas and play nooks for visiting families with younger children. The kitchen area on one side of the living room complements the hospital's food preparation capabilities and transforms into a private dining room when needed. The four patient rooms are set to the sides of the central area, creating an additional visual and mental separation between treatment and socialization. Warm and inviting aesthetics with views of nature help connect the treatment rooms to the holistic experience.
Project details:
Facility name: Bon Secours St. Francis Adolescent and Young Adult Cancer Center
Location Greenville, SC
Completion date: August 2019
Owner: Bon Secours St. Francis Health
Total building area: 2160 square feet. renewal
Total construction cost: $719,000
Cost / square meter. ft.: $332/sq ft.
Architectural firm: McMillan Pazdan Smith Architecture
Interior Design: McMillan Pazdan Smith Architecture
General Contractor: Trehel Corp.
Engineering: Reece, Noland & McElrath Inc. (MEP), Forma Structural Consulting
Builder: Trehel Corp.