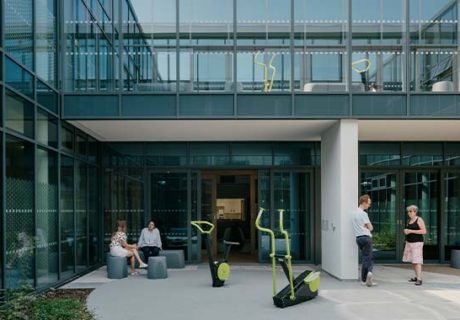 In July, St. Anne's Hospital, a health care campus and the headquarters of Barnet, Enfield, and the NHS Trust in London, opened the first phase of the new campus. The $ 26 million Blossom Court Mental Health Hospital building houses four mental health departments.
The four wings are arranged around two private courtyards, allowing plenty of daylight to penetrate the interior spaces and provide patients with a positive focal point as they cross the building.
To support physical health, exercise equipment is provided in both the yards and terraces of the building. Since the outdoor spaces can be accessed independently, patients can engage in the activity at the time they feel most comfortable, without the help of the staff.
The building's exterior has been designed to integrate with future phases, including the adjacent residential community. By accommodating the outdoor spaces, the building itself provides its own secure fencing without the need for perimeter fences.
Project details:
Facility name: Blossom Court, Saint Anne's Hospital
Location: London
End date: July 2020
Owner: Barnet, Enfield, and Haringey Mental Health NHS Trust
Total building area: 46,285 sq. Ft.
Total construction cost: $ 26 million
Cost / square meter. Feet: $ 567 / sq ft.
Architectural firm: Medical Architecture
Interior Design: Medical Architecture
The general contractor: integrated health projects
Service Engineer: Hulley & Kirkwood
Structure and Civil Engineer: Perega
Landscaping: PLACE Design + Planning