Hello! It's been a week and I have a week of marathon training (and Dopey Challenge training) to update you tomorrow. But first – I got some great questions from runners/food eaters and I want to answer them in front of the group [as in… here].
Questions from August 27:
Do you think the Long Beach Marathon will be held in person this year?
Favorite brands/go-to-running apparel?
Are you in OC or LA?
Do you monitor your heart rate? At rest and while running? You just got a Garmin!
Strange question, what is your job?
Marathon tips taper?!
Run Eat Repeat Q&A – August 27:
Q: Do you think the Long Beach Marathon will happen in person this year?
A: Good question! I tend towards yes.
I would have been completely neutral about this had it not been for the fact that I just ran the AFC Half Marathon in San Diego. I was skeptical that would happen after everything was canceled or suspended for over a year in Southern California.
But the AFC Half Marathon is a point-to-point track as well – so all the runners had to take a bus to the starting line. [We were required to wear masks on the bus, but that was the only Covid related note about the race.] This is an obstacle that the Long Beach Marathon does not have to deal with.
So, I think they can safely host the running event now. The only thing that might stop it is if the city shuts it down or refuses permits. But I think it will happen. Are you registered?
Bonus: If you're into SoCal – Surf City Half Marathon It is September 11th and registration is closing soon. I have a discount code for RER followers. Register now and save using the discount code: MONICA10
Q: Favorite brands/go to running apparel?
A: It changes depending on the season and/or what I'm training for but now that's what I wear from head to toe…
Favorite Running Equipment Brands:
VISOR: Mask from RunEatRepeat.com
Sunglasses: oakley sunglasses for women / Gooder shorter running sunglasses
SPORTS BRA: I always choose a sports bra that has adjustable straps because it tends to stretch a bit with use and I want it tight. I have a small chest but absolutely hate any boob bounce, so I am very particular about my sports bras for jogging. If I wasn't running and just doing strength/conditioning or some other exercise – I would wear any sports bra I had that didn't make the running team.
Sports bras are the second most expensive piece of running gear after running shoes. But they are important! A good sports bra can make you feel more comfortable while running, and if it fits you perfectly, it can help prevent chafing.
If you end up not liking it – bring it back and try another one. It's fairly easy to bring things back to Amazon, Zappos, and Road Runner Sports now.
Favorite sports bra:
jogging tops: I love the Athleta tank and long sleeve running tops. I randomly spotted it a few years ago when I walked into the Athleta store and realized that the quality and the pieces make it totally worth the price. I bought a set of long sleeves and tanks for my joggers in different colors and they lasted and still look great after a lot of wear, sweat and miles! If they had more colors (or really, better options because I like bright colors) I would have ordered more and lived in them.
They have non-slip trim (grippers) around the bottom of this top to keep it from climbing. I appreciate that because my running belt can move and make my shirt rise too, but the grippers make it stay in place. This makes it great for yoga as well (everyone else rides up during dogs?).
Tip: I've ordered other Athleta t-shirts since this find and didn't end up wearing them for jogging because they aren't as good. So, it's not just this brand – it's precisely this design.
Running Shorts and Capris:
running shorts: This is my current preference. This is another area where I think it's worth paying more for quality. I don't want to run around with cheap clothes** sheer fabric so the world can see my cheap style** bounce through my shorts.
the first – Fabletics High Waist 9″ Shorts
The second – Athleta Ultimate Stash Pocket Shorts
3rd – R-Gear Women's 8″ Compression Shorts
Running socks: R-Gear DryMax Low Cut Socks
I also love ProCompression Running Socks Wear it after a summer run, during a run, and after the rest of the year.
running shoes: I am now alternating between 3 very different running shoes. I switch it based on what I'm running that day. I don't think everyone needs as many different running shoes as this one though. Do.
ALTRA Women's Riviera Running Shoe (Riviera is the style) – It's lightweight, super comfortable, big toe box and good for all runs (not distance or specific exercise)
Brooks Ghost 14 Women's Running Shoe Hand in Hand Brooks has the most fun colors and designs for running shoes. This is a fairly light and neutral style that is good for all runs as well.
Women's Nike Air Zoom Tempo Next Running Shoe – You may have seen a picture of this shoe after a long time with My blood is flowing from above. The toe box is a bit narrower than the previous two shoes mentioned and it pressed my toes together and made one cut into the other.
But I couldn't return bloody shoes (can I? No. Right?…).
I will not return the bloody shoes. I've worn this style before, so I guess it was a combination of things that caused the problem (new shoes in the long run so they didn't break at all, healthy nails that grew in too fast, and a hot day couldn't 'cause my feet to swell more than the usual). So, I still wear it and love it (outside the blood spot, but I like to believe I'm stronger on it).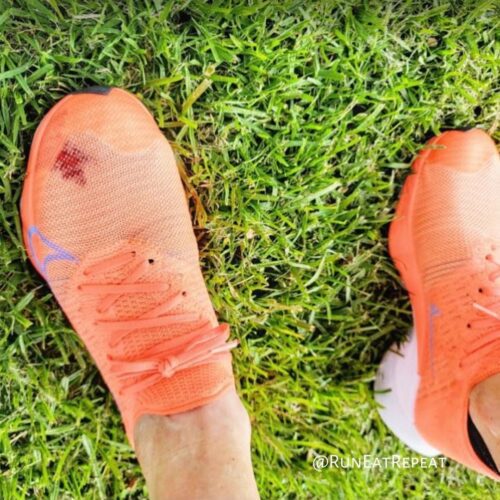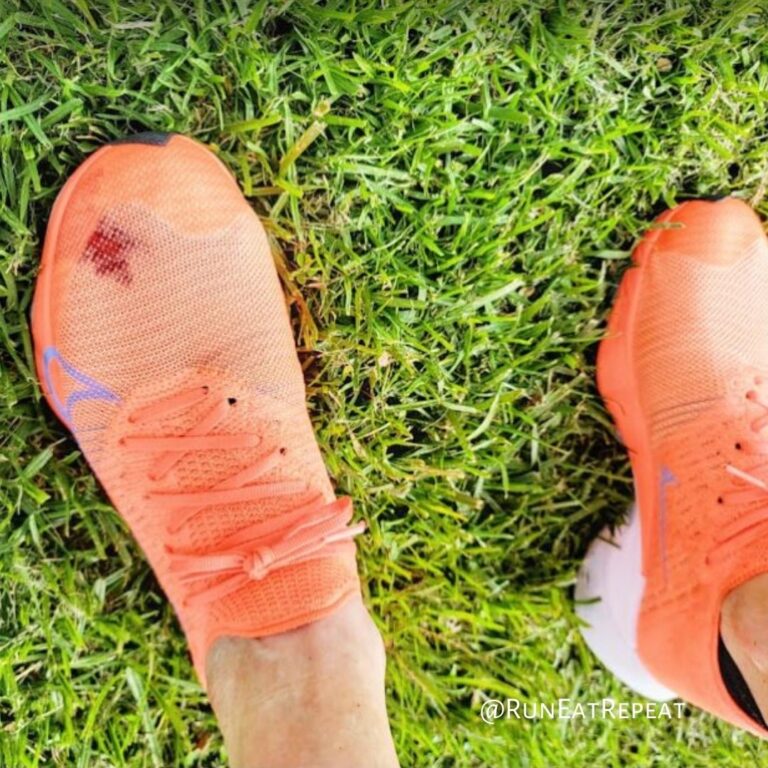 Q: Are you in OC or LA?
a: It's kind of 50/50… I prefer running in the OC and have places to crash in the area so there's plenty there. But my official address is not in the OC.
Q: Do you monitor your heart rate? At rest and while running? You just got a Garmin!
a: I pretty much remove my watch once I'm done running so I don't know my resting heart rate. (When I go to the doctor and they check it's usually low and they think I'm dead.)
When I run…Lately I've been working on an effort level because I'm really out of shape (for me), so the speed is going to be frustrating.
But I've usually used speed on HR in the past.
Also… Someone asked a related question recently, "Are you worried that the HR of your watch is inaccurate because you wear it on the inside of your wrist?"
Basically, I wear my watch oddly. But I agree with that because I don't use HR to inform my training right now.
Q: Strange question, what is your job?
a: I created RunEatRepeat.com over 10 years ago to document my weight loss and training for my first marathon. I think it was a lucky timing and a good number of readers grew into it.
Around the same time I was laid off from my first job out of college and had more time to work on it.
I became a certified running coach and health coach to be a better resource for my followers.
At this point, I was making enough money through banner ads and sponsored posts that it didn't make sense to look for another job.
And therefore…I am a full time running and health coach online via RunEatRepeat.com & Tweet embed
Q: Marathon tips taper?!
a:
1. Trust the taper! Follow the length of the taper in your plan. A good plan is designed to include enough rest and recovery so that on race day you show up feeling good.
2. Use this time to work on your mental strength. Practice positive thinking and visualizations.
3. Make sure race day equipment and logistics are installed. Your main job before the race = relax.
Your main job on race day = running your best. Don't be distracted by last minute location or hardware issues.
That's it for this roundup of questions and answers!
Post a new question and answer box in a file Instagram StoriesRunEatReat Every Monday and Wednesday.
keep going forward: