If you have overindulged this Easter, and managed to eat more Easter eggs than you had planned, do not panic!
Healthy Mummy founder Rhian Allen has prepared an amazing post-Easter 7 day meal plan that will help you lose those extra kilos. In fact, this very meal plan will mean you can lose up to 2 kilos a week.

Rhian's High Protein 7 Day Meal Plan Plan
This meal plan with recipes from the 28 Day Weight Loss Challenge has a range of breakfasts, snacks, lunches and dinners to enjoy over a week. All the recipes are high in protein, which is a super important macronutrient for general health and nutrition and can also help you if you are trying to lose weight.
Eating healthy meals high in protein can help you to feel fuller for longer throughout the day, which means you're less likely to eat extra snacks or overeat at your next meal.
See the Meal Plan here plus scroll down for Tips to Lose Weight in a Week!
Breakfast
Set yourself up properly for the day ahead with a mix of these really good high protein breakfast recipes.
Chia, Nut and Strawberry Bowl – 327 calories

Prepare this high fibre breakfast the night before so you have something to ready to go in the morning.
Serves 1
Ingredients
2 tbsp macadamia's, unsalted roughly chopped
2 tbsp almonds roughly chopped
2 tsp chia seeds
1/4 cup reduced fat milk of choice
1/2 cup strawberries
Method
Combine macadamia's, almonds, chia seeds and milk in a bowl. Cover and refrigerate over night.
Top with sliced strawberries to serve.
BLT Pita Melt – 323 calories
A delicious way to start the day, easy to prepare and friendly on your budget!
Cacao Chia Pudding – 301 calories

A breakfast treat fit for those with a sweet tooth. It's also high in fibre to improve your digestion and reach your weight loss goals faster!
Choc Addict Crepes – 301 calories

For all the chocoholics! This recipes proves you can still enjoy your favourite meals in a healthy way!
Serves 3
Ingredients
2 tsp chia seeds
1/4 cup water
1/4 cup plain wholemeal flour
2 tbsp cacoa/cocoa powder
2 free range eggs
1/2 cup reduced fat  milk of choice
1 tsp extra virgin olive oil
1/2 medium avocado
1 tsp Natvia
1 tsp vanilla extract
cooking oil spray
1 tsp maple syrup
1 tbsp coconut oil
2 tsp reduced fat coconut milk
1 tbsp cacao nibs
Method
Combine the chia seeds with the water and set aside until gel like.
Make crepe batter by combining flour, 1 tsp of the cacao/cocoa powder, the eggs, milk and oil until smooth.
Make the crepe filling by placing the avocado, 2 tsp cacao/cocoa powder, the Natvia, the vanilla extract and all the chia mix in a blender and blitz until smooth, to form crepe filling.
Lightly spray a frying pan with cooking oil spray over a medium-high heat. Pour in a 1/3 of the crepe batter and swirl it around the frying pan using the back of the ladle, to cover the base in a thin layer. Cook for a minute or two, or until golden on the bottom, then flip crepe over and cook on the other side. Repeat the remaining batter so you have 3 crepes in total. Set crepe aside and keep warm while you prepare the chocolate sauce.
Combine the maple syrup, coconut oil, coconut milk and remaining cacao/cacoa powder in a saucepan. Heat until melted and well combined.
Divide the filling evenly between each of the crepes. Roll crepe up to enclose filling and drizzle with an even amount of the chocolate sauce.
Sprinkle with cacao nibs to serve.
One filled crepe is one serve.
Asparagus, Smoked Salmon & Poached Eggs – 324 calories
Eggs are the perfect high protein breakfast to set you up for the day.
Snacks
Eating the right snacks is super important when you are trying to lose weight. These high-protein snacks will keep you feeling full in between your main meals plus are great to prepare in bulk so you always have them on hand during the week.
Asian Pork and Veggie Rice Balls – 117 per serve
This savoury snack is great to cook in bulk! They can be kept in the fridge for 3-4 days or in the freezer for up to 2 months. Just grab 2-3 balls per person and reheat when you want a quick delicious protien snack.
Cucumber S'Mores – 141 calores

A great quick high protein snack to keep you full plus are great for entertaining!
Chocolate Nutty Strawberries – 165 calories per serve
What's better than strawberries dipped in chocolate? Strawberries dipped in chocolate sprinkled with pistachios!
Lunches
Seasoned Chicken and Beans – 355 calories per serve

A simple dish to prepare that is loaded with protein and fibre for a nutritious midday meal.
Quinoa, Avocado & Sweet Potato Bowl – 340 calories

A tasty veggie bowl packed full of nutrients for a healthy meal that will keep you fuller for longer and help you lose weight faster!
Serves 1
Ingredients
1/8 cup quinoa, uncooked, rinsed.
1/2 small sweet potato, diced
1/4 medium avocado, diced
1/2 tomato diced
1/4 cup fresh basil leaves chopped
1 tbsp cashew nuts, unsalted chopped
1 cup rocket lettuce
1 tbsp lemon juice
salt and pepper
Method
Cook quinoa as per packet directions.
Steam sweet potato until tender
Place oil ingredients in a bowl, in separate sections.
Drizzle everything with lemon juice and season with salt and pepper to serve.
Turkey Salad Sliders – 278 calories
These high protein low carb turkey sliders taste great and they can be fun for the whole family.  The turkey patties can be made ahead of time and just cooked when ready to serve making it a great speedy family meal.
Chicken and Parmesan Lettuce Wraps – 237 calories
Protein packed chicken, creamy avocado and salty Premesand combine to make a fantastically tasty lunch!
Lamb Pita Pockets – 279 calories
These Greek inspired lamb pita pockets are an explosion of flavour in your mouth!
Dinners
Tofu Tex Mex with Cauli Rice – 371 calories
A low carb Mexican inspired family friendly meal! Keeping cauliflower rice in the fridge or freezer is a great way of reducing your carb intake.
Steak & Mushrooms – 311 calories

Yum, the ultimate high protein meal – steak! Just make sure you use a lean cut.
Easy Satay Chicken and Rice – 451 calories per serve
This simple but super tasty dinner consists of pantry basics so great for a mid week dinner.
Mongolian Beef Stir Fry – 368 calories

A high protein, lower sugar alternative to the popular take out, using konjac rice also reduces the carbohydrates in this tasty meal.
Beef Burritos – 446 calories
The whole family will go nuts for these tasty beef burritos.
Serves 4
Ingredients
8 wholemeal tortilla
400 grams lean beef
1 brown onion
1 tbsp extra virgin olive oil
1 tsp ground cumin
1 tsp smoked paprika
1 tsp ground coriander
1 small red chilli
1 bunch fresh coriander
1 smll red chilli
1 bunch fresh coriander
2  tomato
4 cups mixed lettuce leaves
2/3 cup extra light sour cream
1 medium avocado
Method
Thinly slice the beef onion and the chilli
Combine the cumin, paprika, ground coriander, chilli, beef slices and half the oil and leave aside to marinate for a few minutes. If you have time, leave to marinate for longer.
Heat the remaining oil in a frying pan over a medium-high heat. Add the onion and saute until just starting to colour. Add the beef and cook to your liking.
While the beef is cooking, dice the tomato, mash or slice the avocado and chop the coriander leaves.
Warm the tortillas for a few minutes in a ow oven. Serve cooked beef with the warmed
Healthy Layered Meatloaf – 281 calories
This delicious meatloaf recipe is budget and family friendly at just 281 calories per serve!
Serves 4
Ingredients
cooking oil spray
500gm lean beef mince
1 medium carrot finely grated
1 small sweet potato finely grated
1/4 cup Worcestershire sauce
1/2 tsp hot English mustard
10 slices thin reduced fat cheddar cheese
3 bacon rasher lean and trimmed of any fat
2 tbls tomato paste
Method
Pre-heat oven to 180 deg and lightly grease a loaf tin with cooking oil spray
With hands, mix together mince, carrot and sweet potato in a bowl
In a jug whisk together Worcestershire sauce and mustard
Pour over mince mixture and use hands to combine
Firmly press 1/2 mince mixture into prepared loaf tin
Lay the bacon on top of mince, then layer cheese on top of the bacon
Firmly press the remaining mince mixture on top of cheese layer
Spread the tomato paste over top of the meatloaf
Bake in oven  for approx. 25 – 30 minutes until cooked through
Remove from oven and stand for 5 minutes before slicing into 4 pieces, 1 piece is 1 serve.
Serve with a green salad or steamed veggies
Chicken Parmigiana With Salad – 439 calories
A favourite in so many families and now you can create this high protein and tasty meal in a healthy way.
Desserts
Desserts don't have to be off the menu when you're trying to lose weight. With healthy desserts like this, you can have your cake and eat it too!
Baked Vanilla & Chocolate Cheesecake – 112 calories
A delicious low-carb cheesecake made with just 5 ingredients!
Serves 12
Ingredients
2 cups light cream cheese
1/2 cup Natvia
3 free range eggs
1 tsp vanilla extract
1 tbsp cacao/cocoa powder
Method
Preheat oven to 170 degrees celsius. Line a 20 cm round springform cake tin with baking paper.
Place cream cheese, Nativa, eggs and vanilla in a food processer and puree until smooth.
Pour 2/3 of the cream cheese mixture into a bowl and set aside.
Add cacao/cocoa powder into the remaining 1/3 of the mix and process to combine well.
Pour 1/2 of the plain cream cheese mixture into the prepared tin.
Slowly pour the cacao/cocoa mixture over the top and then top with the remaining 1/2 of the plain cream cheese mix.
Bake for 35-40 minutes until it begins to brown and puff on the edges.
Cool for about 30 minutes in the tin before cutting into 12 peices.
Dust with a little extra cacao/cocoa powder if you like to serve. One piece is one serve.
Left overs can be stored in an airtight container for 2 -3 days or freeze for up to 2 months.
Berry Pistachio Semifreddo – 188 calories
Make your own ice-cream typle slice with this easy recipe, rather than purchasing something pre-made. Healthy and delicious.
All of these recipes can be found from the 28 Day Weight Loss Challenge in the Healthy Mummy App.
See the AMAZING results of Mums who have lost weight with the 28 Day Weight Loss Challenge Plus TIPS to lose weight in a week!
Zoe Terry
Zoe shares,  '41.1kgs gone and definitely not missed!
I never thought I could do it. I never thought I would enjoy it. But Healthy Mummy has made it easy and fun!
I have found that 2 smoothies, 3 snacks and a healthy main meal paired with daily exercise is what's worked for me!"
Zoe shares, "I've lost 35kgs and gained a love for healthy food and exercise! The Healthy Mummy has also helped me manage my postnatal without medication!
"I joined the Healthy Mummy 28 Day Weight Loss Challenge because I was looking for a lifestyle change that I could continue for the rest of life. I was tired of being exhausted and not setting a good example for my son. In 2020 I want to reach and maintain a healthy weight and feel strong!"
Zoe shares, "My father has health issues and I worry about him. I realised if I didn't make changes my son would have to worry about me too when he grows up.
"I no longer wanted my husband to look at me and I didn't want to look at me either. I dreaded having to find something to wear and I was always tired. I needed to change and stop living half a life. I wanted to live the life that I deserve!"
Simone Amiet
Simone is a 28-year-old mum to four girls aged 8, 5 and 18-month twins from Gunnedah, NSW.
Just under a year ago, Simone admits to not being in a great place mentally or physically. Her anxiety and depression were not helping with weight gain if anything they were making it worse.
Simone shares, "I was so lazy,  loved junk food and made excuses not to do anything. I started diets and would always give up after a week or two."
"I joined the 28 Day Weight Loss Challenge to lose weight, but most of all to be healthy, I was sick of being sick and unfit."
"I have lost of total of 36 kilos. I'm now weighing 60 kilos. It has taken me the last 10 months to lose 30 kilos."
"The Healthy Mummy didn't just change my life, but it changed my children's lives too'.
"As I always tell my daughters I'm not on a diet I have a healthier lifestyle now,  for them and most definitely me."
Get Tips for Losing Weight in a week from a Mum who's done it!
Kaitie Purcell has been a member of the Healthy Mummy since 2015 and has lost a whopping 21 kilos.
She admits that sometimes the weight loss would stall, or even she'd put on a bit of weight after Christmas or Easter holiday. But, Kaitie says by following the 28 Day Weight Loss Challenge and by using these tips, she was able to get back on track and lose weight within a week.
Kaitie's Top Tips for Losing Weight in a week
1.BMR
Calculate your BMR. KNOW how many calories you are aiming for (don't guess based on someone else's needs), for your personal goals and requirements.
2.Plan
Make a plan and set yourself up for the week. Create a shopping list with everything you need and set aside a small amount of time to prepare some meals and snacks for the week ahead.
3.Water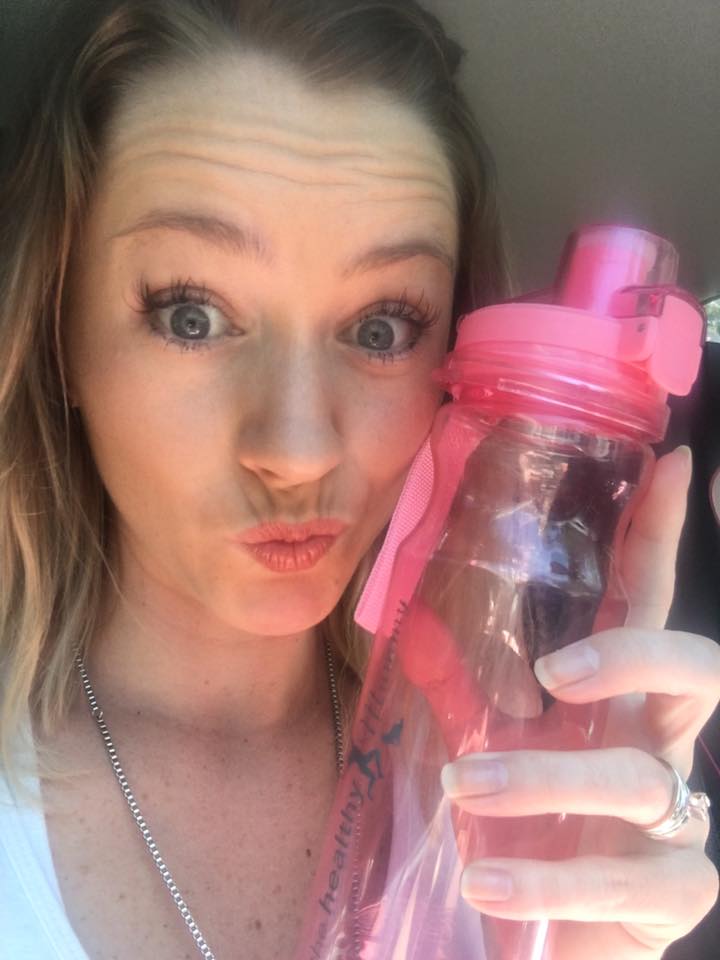 Drink plenty of water throughout the day to ensure you are hydrated. Often thirst can be confused for hunger pangs.
5. Check your labels!
Don't be fooled by clever packaging, often pre-packaged 'high protein' foods contain extra calories, sugars and sweeteners.
6.Exercise
Schedule in time to exercise. Make an appointment with yourself. This will help you be committed to a specific time. This high protein meal plan will assist in muscle recovery, 3 days per week is great when starting out. Don't have time to exercise?
Move when you can. Do some squats at the kitchen sink, do extra laps of the hallway, park further away from your work or the shopping and walk further, take the steps instead of the elevator. Simply more more whenever you can.
7. Eat regularly
Your meal plan is filled with amazing food including breakfast, lunch, dinner and snacks. If you eat scheduled meals you are less likely to get hungry and binge eat later in the day.
8. High Protein
Eating high protein meals and snacks will help you feel fuller for longer.
9. Pack a lunch box
If you have a busy day ahead or know you will be out for a lengthy amount of time, pack a lunch box. Take your prepared meals and snacks. If you get caught try avoid takeaway and processed "healthy foods". If possible opt for salads with dressing on the side or try to purchase some fresh fruit or natural nuts.
10. Lastly, be kind to yourself
If you slip and over eat, if you have caved and eaten takeaway or that tempting chocolate bar don't be too hard on yourself. Accept it and move on. Have a glass of water and start fresh right away. Don't wait for tomorrow or Monday. You can do this now!
If you are wanting to lose weight and improve your energy – not to mention – help improve your overall health and wellbeing – our 28 Day Weight Loss Challenge is an awesome program to check out.
Join our community of thousands of other mums losing weight the healthy way by signing up to our 28 Day Weight Loss Challenge. Read their fabulous weight loss stories here.
As part of the 28 Day Weight Loss Challenge you receive:
An online fitness challenge or routine that is customisable to suit any body type from full body workouts to quick fitness routines that target specific areas for fat loss.
Support from other mums as well as advice from experts that will help you every step of the way.
A range of recipes designed by our nutritionists that are suitable to all eating habits including vegan, keto diet, food intolerance's or allergies to help you meal prep.
The My Coach feature in the app offers fitness tips, advice, encouragement, support and more to help you every step of the way.
Sign up to the 28 Day Weight Loss Challenge, join the Facebook Group and download the app from the app store to get started towards your fitness goals today.