The 12 Week Challenge is nearing the finish line as we enter the third and final month!
What is the 12 Week Challenge?
The 12 Week Challenge is basically for mums who want that extra bit of motivation and accountability. It consists of following three conventional 28 Day Challenges, with access to a 12 week Private Support Group to chat with other mums taking part in the 12 Week Challenge.
In the 12 Week Challenge Private Support Group you'll also find our incredible Motivating Mums who will keep you on track as we enter the second month, weeks 9- 12 of the Challenge!
Meet your 12 Week Challenge Motivating Mums!
These incredible women will be on hand in the 12 Week Challenge Support Group to encourage, support and motivate you to smash your health and weight loss goals! These mums are also taking part in the 12 week challenge themselves and will be with you every step of the way.  Meet these mums and find out their goals for the third month of the challenge!
Meet
Crystal-Joy McGuire
"I'm Crystal, 34 from Grafton NSW and I have a 2yr old son.
Since the 12 week challenge started I've lost 9kg as of 20/06/2021. My goal for the last few weeks is to keep crushing it and not to slow down just because the challenge is ending soon, go from 3 days a week at the gym to 4 days….And to help motivate other mummy's.
I've noticed lots of health benefits. I feel happier inside and out, I have more confidence, a lot more energy and I have stronger willpower since starting. I'm doing this not just for me but for my son, I don't want to be an embarrassment to him… he needs his mum to be able to play with and have the energy to keep up with him.
I use all three types of Healthy Mummy smoothies – I love them all but the premium double chocolate is my absolute favourite!
I absolutely love the lamb & mint yogurt burger  and favourite snack is the pizza scrolls."
Crystals 3 Tips for other mum
Make a plan and stick to the plan… (I did this and it helped me so much starting out, because I didn't deviate from it- I knew what I was doing and having).
Don't shop when hungry this is where some real sabotage can happen, take a Healthy Mummy snack with you in case you get hungry.
Trust yourself, work like hell (whatever your goal is …work for it) you won't get results unless you put the effort in.
Meet Amanda Dodsworth
"Hi, I'm Amanda, 34 years young with four children aged 12, 10year old twins and my youngest is 3 years old and I'm from Regional NSW. Since joining the Healthy Mummy in October 2019 I have lost over 13kgs and 3 dress sizes.
I've gained my confidence back 
I've gained a level of fitness, strength and stamina I thought was long gone 
I've gained a positive mindset 
I've gained the ability to set & smash goals
My goals for the last 4 weeks of the 12-week challenge is to shift the final 3kg to reach my weight loss goal, fuel my body with healthy nutrition and improve whole body strength.
I am doing the 12 week challenge to hold myself accountable within an amazing community of like-minded women. My WHY is to not put myself first, but to put myself in the picture. To be the best version of myself in mind and body that I can be and by doing that I can be present and active for my family also.
I use the Healthy Mummy Smoothies most mornings for breakfast. My favourite snacks are simple. They include apple with peanut butter, rice cakes with peanut butter and banana or snack plates are definitely my go to favourites!"
Amanda's 3 Top Tips
Tidy up loose ends in other areas of your life for an added boost of motivation and confidence;
Take new photos and compare – set targets specific to the areas you want to improve
Schedule rest days!
Meet Melissa McGlone
"My name is Melissa McGlone I am 34 years old. I have 3 wonderful boys 14,8,7. I live Kumbia .Very country. I have lost 8kgs in the last 2 years with Healthy Mummy."
Melssa's Goals for this month
To stay motivated
Workout everyday with a Healthy Mummy workout
And to help others with their journey
Health benefits with Healthy Mummy
Increased energy
Clear focus mental
Lower blood pressure (this was a win)
Less drinking wine 🍷 also a win.
"My WHY  for the 12 Week Challenge is to  be held accountable, to keep motivated and to keep losing weight I still have a bit to go to hit my goal weight. Been a slow and steady road for me.
I use Healthy Mummy Smoothies everyday for breakfast. I love them. They are part of my everyday routine. My favourite meal is a boring one but my favourite is One Pot Spaghetti Bolognese."
Melissa's Tips for mums starting The Healthy Mummy
Try not to get overwhelmed. There's is a lot information all at once and a lot discounts all at once. Just keep reading through it all and it will all make sense in the end.
Try all the products on offer. They all amazing. The smoothies have wonderful benefits and taste delicious
Start with a small goal at first and make a reward for yourself. I like to reward myself with Healthy mummy Skin products.
Meet Jessica Goff
"Hi, my name's Jess, I'm 33 and I have 3 wild little boys aged 3, 6 & 8. We live in a little country town called Hazeldean on the Somerset Dam west of Brisbane, QLD.
I first found The Healthy Mummy in 2018 after the birth of my 3rd baby and lost 12kg in 3 months following The 28 Day Challenges. Unfortunately, life threw us a few curve balls and I slowly let my weight slip. Prior to the 12 Week Challenge, I was 79.9kg, the heaviest I have been not related to pregnancy.
I knew I had to do something so I turned back to The Healthy Mummy and the 12 Week Challenge! I am already down 6.6kg (4.5kg since the start of the Challenge) and whilst I'm not losing big numbers every week I know that slow and steady progress is my key to ongoing loss and sustaining it.
My Goals for the last weeks of the Challenge are:
• Increase my Fitness
• Prep as much as possible
• Stick to my Calories
One of my first goals of this Challenge was to Love myself again and I can definitely say I have already ticked that one off. Seeing the physical changes since the start of the Challenge has made me feel so proud of what I've already achieved. I needed this 12 Week Challenge to motivate me to get back to my best ME!! I had to do it for ME, not for me as a mum or wife but for ME as an individual to love myself again!!
I'd be lying if I said I've "stuck to my Meal Plan" and "Moved My Body every day" but what's important is changing your mindset, these are NOT FAILURES, this is life!
Jess's Top Tips
• Plan everything but when plans change try to be smart about your choices
• Remind yourself that just because you go off track doesn't mean you have Failed, it just means you need to reset
• Be proud of yourself for every small step or good decision
The Healthy Mummy Smoothies have been key in my progress. They are quick, easy and super convenient, plus they taste delicious!! I also love meals that I can cook in bulk like Lasagna Soup or my absolute favourite is the Pumpkin & Goat's Cheese Pizza. I also love a no prep snack like Apple and Almond Butter when my snack stash is low. That's the thing about The Healthy Mummy, you choose your food, your exercise, your goals and you're in control. Bring on the Last weeks of the 12 Week Challenge!!!"
Meet Bernie Fanning
"Hello my name is Bernie Fanning and I'm 29 years old. I have a beautiful, strong, happy daughter who is 6 years old. I work 5 days a week as a care worker in aged home care. I live in Young NSW which is a small county town. I have been on the Healthy Mummy officially for 2 years on the 1st of July 2021. However, I was a member for years and would look at the other ladies wishing it was me. One day I looked in the mirror and couldn't recognise who was looking back at me. I have lost 25 kilos , 4 dress sizes and 150 cms in 12 months and have been maintaining for almost 12 months. I have more than halved my visceral fat, which is the dangerous fat surrounding your organs. I have improved my physical and mental health.
My main goal now isn't weight loss as I've lost all the weight I wish to. I now want to maintain my weight loss and be consistent with healthy food and exercise. I thrive to feel happy, fit and strong and learning to live with an open mindset. Using the mindpower tools in the Healthy Mummy app are great for my mental health also the meditations. I use the app for workouts, food and smoothie ideas, plus they now have podcasts too. It's also great to track your progress. When I started my journey my only goal was to lose weight. But now my goals are non scale related. Yes I would like to roughly maintain my weight but I want to feel happy, fit and strong. I want to be a healthy and happy role model for my daughter.
I also want to eat healthy food to decrease my risk of type 2 diabetes as I had gestational diabetes when pregnant. Self care is so important too, I love the healthy mummy skin range. Self care can be as simple as an extra long shower or bath. Painting your nails or catching up on anything that you enjoy for yourself."
Bernie's 3 tips to succeed and getting started
Creating a motivational board is a great start. Make it visual, you can use photos, pegs on a bit of rope and put quotes on there😍
To work out your daily recommended calories by using the HealthyMmummy BMR calculator and burn more calories then you consume. Remembering we are always burning calories even in our sleep and the big one meal prep.
Take photos and measurements and have non scale goals in mind. Also get the kids involved my daughter loves doing workouts and says she feels happy and strong.
Meet Louise Basdekis
"Hi my name is Louise I'm 36 years old and I have 2 boys aged 8 and 2 1/2 and we live in Melbourne Victoria. I've lost 26kgs with the Healthy Mummy since I went Platinum last year in June.
My goal for the last weeks of the 12 Week Challenge would be to be consistent with my healthy eating and exercise which I'm loving at the moment even when I'm so exhausted after a days work. Since I've joined back up with the Healthy Mummy I feel so much more confident within myself and I have more energy to keep up with my kids and working. My reason for doing the 12 week challenge was to set myself a goal to work towards and to keep me motivated to keep going even on the days when I just want to give up.
I absolutely LOVE the Healthy Mummy Premium Smoothies and I have one every morning with the protein powder it's so easy and keeps me full. My favourite Healthy Mummy meals would be the One Pot Spaghetti Bolognese and the pizzas using the 2 ingredient pizza dough. Favourite snacks would hands down be the superfood rocky road and a recent discovery the white chocolate and apricot slice!"
Louise's tips to any mums getting started
Make small achievable goals to begin with.
Meal prep! It doesn't have to be time-consuming or difficult even portion out fruit chop some veggies etc this is great for easy to grab snacks rather than reaching for the easy unhealthy choices.
Make time for yourself each day even if it's 10 minutes and do what makes you happy.
Meet Jessica Dunjasky
"Hi I'm Jess, 34, from the ACT. I have three children aged 8, 6, 5 months.
In 2019 I lost 33kg with The Healthy Mummy. I had a reasonably healthy pregnancy, but am now 9kg above my pre pregnancy weight… and back into The Healthy Mummy as I know it works. Since starting the 12 week challenge even though I'm not weighing in until the end… I can now fit into my first and second goal pants. My WHY is because I know it works and I have a wardrobe full of clothes that I need to fit into again, plus it's easy to fit into my hectic family life."
Jess Goals for the last month of the challenge
To start my PT sessions working towards my 12 month goal of bikini Mumma comp.
To focus on my food intake to ensure I'm fuelling my body correctly.
To continue being active and moving every day.
"Most days I have a Healthy Mummy Smoothie for breakfast or lunch, lately both. My favourite meal is the deviled sausages and sweet potato and favourite snack is the baked coffee cheesecake."
Jess's 3 Tips for Success
set daily goals… it's a great motivator to tick them off each day.
Things are always hard at the beginning but as you learn them you have in fact learnt a new skill and they aren't hard anymore (credit to my sons teacher for that one).
Whilst we are all on a similar journey, no one's journey is the same… people will change at different rates… focus on you and be motivated by others, never compare.
Join thousands of mums on the MUMS ONLY Challenge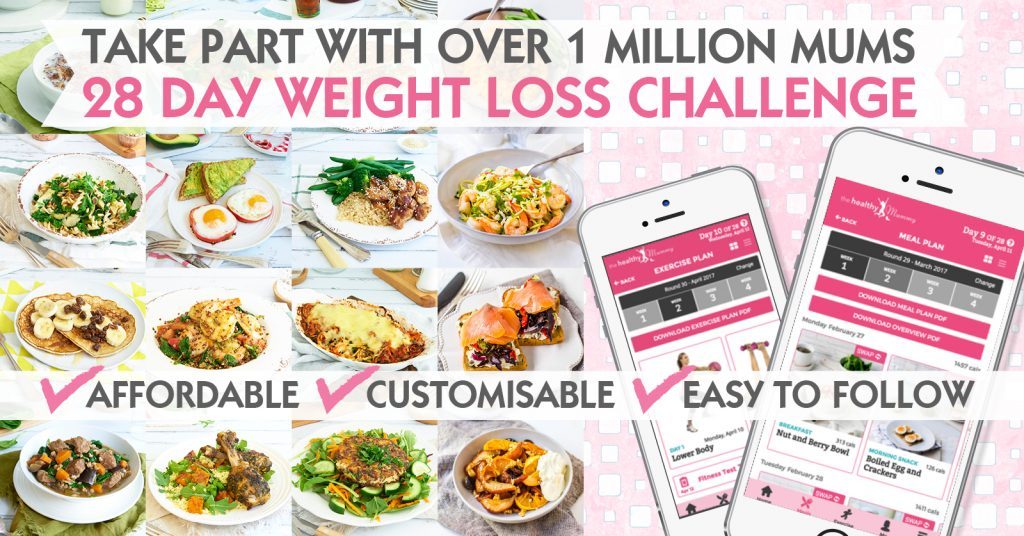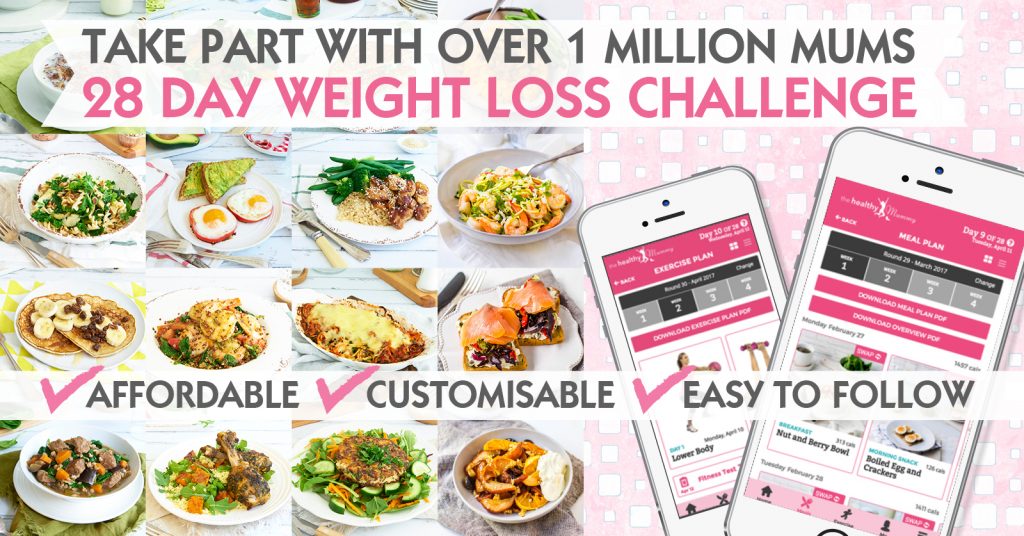 Join the thousands of mums on the 28 Day Weight Loss Challenge tackling and ACHIEVING their weight loss goals.
Whether you have 5 kilograms to lose or 35 kilograms to lose – The Healthy Mummy is here to SUPPORT YOU and your PERSONAL WEIGHT LOSS JOURNEY.
To find out more on the 28 Day Weight Loss Challenge click here.