The 12 Week Challenge is well underway as we enter the second month!

What is the 12 Week Challenge?
The 12 Week Challenge is basically for mums who want that extra bit of motivation and accountability. It consists of following three conventional 28 Day Challenges, with access to a 12 week Private Support Group to chat with other mums taking part in the 12 Week Challenge.
In the 12 Week Challenge Private Support Group you'll also find our incredible Motivating Mums who will keep you on track as we enter the second month, weeks 5 – 8 of the Challenge!
Meet your 12 Week Challenge Motivating Mums!
These incredible women will be on hand in the 12 Week Challenge Support Group to encourage, support and motivate you to smash your health and weight loss goals! These mums are also taking part in the 12 week challenge themselves and will be with you every step of the way.  Meet these mums and find out their goals for the second month of the challenge!
Meet Belinda Gray
"My name is Belinda Gray I'm 34yrs old, married with three children, Ethan 10, Jackson 5 and Sophie 4 and we call Mildura Victoria home. 
I'd lost 54kgs prior to my last two youngest children but at the time I really had no idea how to sustain it, that was until I discovered the Healthy Mummy in 2016 thanks to a lovely friend of mine. I became a member in 2017 after the birth of my daughter Sophie. The Healthy Mummy is not a program for me anymore, it's my new lifestyle forever! I've not only lost the weight I needed to (and still going) I've also gained education about nutrition and health. This for me is about being the best role model I can be for my three children. I've changed my mindset for the better and return I've gained confidence and happiness. Life as a mum is such a roller coaster ride, you never know what lays over each hill and by using the healthy mummy products which are nutritious and healthy, I'm also able to keep on track with my health goals by providing my body with all the goodness it needs to get through a busy day. 
My starting weight was 98 kilos starting in 2017 and I'm now currently weighing 75kgs and I was weighing 78 at the start of the 12 week challenge.
My goal is to reach a healthy goal weight of 60kgs and I aim to reach at least 70 by the end of the 12 week challenge so that's another 5 kilos."
Belinda's Three tips for other mums
change your mindset

create smaller realistic goals that aim to achieve bigger future goals
be consistent, look at it as a lifestyle change to better your health not having a diet focused mindset.
Meet Lisa Flanagan
"Hi Ladies!! My name is Lisa and I am 30 years old. I have 3 beautiful boys who are 8, 6 and 2. We live in Thornlands is Brisbane (Redlands) area.
I have been doing The Healthy Mummy on and off for around 7 years. I joined as a platinum member a couple of months ago and never looked back.
My goals this month are to drink 2L of water a day and close all of my rings each day on The Heathy Mummy App.
I have seen some great changes to my whole family's lives. Everyone eats what I eat which is something I love the most as I don't have to cook seperate to my family.
My 'why' is and will always be my 3 boys. I don't want to be a mum on the sidelines. I want to be in the action running around and playing with my kids. I have lost 39.8kgs so far since August 2020. This is a combination of using The Healthy Mummy, weight loss surgery in August last year, as well as intensive training at my group fitness training facility called Training For Warriors.
The Healthy Mummy has kept me on track with my food. I love how easy it is to plan all your meals for the week and have them prepped and ready to eat each day. I also love the inbuilt shopping list in the app to make it even easier!
My favourite meal is the Greek Chicken Tray Bake. It has so much flavour and is so so easy to make. I also love the Premium Caramel Smoothie for breakfast. I train from 5-6am each day so when I get home my mornings are very busy getting everyone ready for work/school and then getting out of the house so I love the fact of how easy it is to make a shake and get the nutrients my body needs."
Lisa's Top Tips
Tip 1: Bite the bullet and try it, even for just 1 month!
Tip 2: Small sustainable changes are best for long term success.
Tip 3: The most important meal of the day is your next one! Don't worry if you have had a bad start. The rest of the day can be great!
"I can't wait to smash June out with you all ladies."
Meet Jade Shaw

"My name is Jade. I'm 31 and have 3 girls 7, 3 & 1 and live in Diggers Rest Victoria.
I first found the Healthy Mummy back in 2014 when my oldest was 10 months old. I had recently came out of a very bad relationship and became a single mum. I went on to lose 35 kilos following the Healthy Mummy. I then met my current partner had 2 more babies and I was back to square one. Over the years I have jumped on and off the Healthy Mummy journey. I always come back because I know it works. Before this challenge started I had a close family member say to me "I wish you loved yourself enough to put you first". They told me I was a beautiful person and would do anything for anyone. They wished I could do it for myself. Those words have honesty stuck with me and I keep coming back to them. I have given it my all this challenge and have already lost 4 kilos and 30cm all over."
Jade's Goals for the month
Stay consistent
Focus on water intake
Try something new from the app everyday
go to bed earlier
No excuses
Jade's 3 tips for mums getting started?
Don't be hard on yourself
Baby steps win the race
Stay consistent
Meet Sherree Barry
"My name is Sherree. I'm 36 with  2 boys – 3 and 2 and I live in Cessnock NSW.
I started the Healthy Mummy back in November 2020. Followed it loosely til this 12 week challenge. Have lost 6 kilos in this time.
My goal for the month is to continue with the healthier food choices and keep exercising regularly. The Healthy mummy keeps me focused on my exercising, which helps my mindset heaps. Physically, I have dropped 2 dress sizes. I am doing the 12 week challenge to ensure I form good habits that I can continue after the challenge.
I want the lifestyle change that I've been wishing for. Now I WILL do it and succeed."
Sherree's 3 tips for other mums
Remember why you are doing it, it will help to motivate you.
We all slip up, tomorrow is a new day
Have fun with it! It's a lifestyle change. You want to enjoy it.
Meet Brooke Boulden
"Hello Healthy Mummies. My name is Brooke. I am 30 years old, married with two boys aged 3 (nearly 4) and 2 years and live on Kangaroo Island in South Australia.
The short version, The Healthy Mummy has helped me lose 21kgs. It has also helped me gain a whole lot more. I am more confident, fitter, stronger and energised. I have regained my love for feeling healthy and being active. Most importantly, I can keep up with the kiddies (well most of the time)."
Brooke's Goals for the month
"We are one third way through the 12 Week Challenge and my first goal is to remain committed. Motivation can come and go. Some days I feel sluggish and don't want to exercise or I want to reach for the sweet treat too many times. But, then my commitment steps in. I am committed to making a lifestyle change that will leave me feeling healthy and energised for years to come. It takes time to build new habits. My second goal is to review my original pledge (which was very extensive). What is and isn't working? Why do I think this? What do I need to change? Thirdly, daily I want to drink 2L of water, exercise and eat more fruit and vegetables.
The Healthy Mummy has helped me lose 21kgs, but I am still 6kgs away from my desired weight. I have lost my way recently with eating. Consuming what I want when I want and feeling unwell because of it. I want to create lasting healthy habits. I know that the HM program works but thought a 12 Week Challenge would keep me feeling more accountable for longer. Now that we are four weeks into the challenge, I feel my motivation has changed from hitting that goal weight to achieving the feeling I had when I was that prebaby weight. My body has grown, birthed and fed two babies. It will never be the same, so I am in search for the confidence I once had in my new skin.
I only started using Healthy Mummy Smoothies late last year for lunches. Where have they been all my life?!? My favourite is the Vanilla Tummy Smoothie. I needed something that was a nutritional and an easy go to that would stop me from choosing unhealthy food when limited for time. Lunch time is my weakness. I mostly love how versatile the smoothies can be. They can be easy and convenient or you can bulk them up. If you are time poor, add the liquid, shake and go. If you have time, add a few ingredients to give your taste buds a bang! They are also very easy to take out and about."
Brooke's 3 tips for other mums
"Losing weight is hard. Being overweight is hard. Disciple in hard. Regret is hard. Change is hard. Not changing is hard. Chose your hard. It is worth it."
Look at how far you have come. Find and celebrate what you have achieved.
Make changes that are realistic for you. One each day or week. HM is about lifestyle change not short term change. Find your groove. Tailor your meal and exercise plan to fit your life. The app is full of so many options.
Reach out and communicate. This group of women are here to support you and lift you up. If you need help, ask.
Meet Kirsty Whitehead
"My Name is Kirsty Whitehead, I am a mumma bear to 4 cherubs and a bonus child, Chloe (23) Shelby (16), Jackson (13), Joseph (5) and Anna (3) oh and I mustn't forget a wife to my hubby. We live in the southern suburbs of Adelaide SA.
I have been with healthy Mummy for over 5 years, I initially lost 40 kilos then totally lost my way and put on 20 of those 40, So May 2020 I found my way back to the Healthy Mummy. In the last 3 months I have lost 11 kilos and have started to really focus on my mental health. I have been a platinum lifetime member for less than a year.
Even though my journey hasn't been a fast one to get to my ultimate goal, I have still reaped so many benefits from starting Healthy Mummy, I am aware of my emotions and the link to food, whilst I don't always manage not to binge when emotional, I have way more awareness and control over it. I am stronger both emotionally and physically. I am also a way more positive person since starting Healthy Mummy and I feel like I have a supportive village of women or believe in me and lift me up when I struggle to believe in myself."
Kirsty's 3 tips for Mums
Take it one step at a time. it can seem completely overwhelming when beginning or re-begining, but by focusing on some small changes it can be less daunting and easier to maintain those changes.
You will stumble, stumbling is ok, that stumble maybe just for one day or a continuous cycle of stumbles, don't give up, go back to basics and remember food is just fuel for your body, there is no need to feel bad or punish yourself because you stumbled.
Remember you are important!! As an individual you are worthy of self-love, take time out just for you to recharge. it doesn't have to be long… just 5 minutes to regroup, just remember you are important.
Meet Eirini Trajcevski
"My name is Eirini Trajcevski, 34, 3 children aged 7, 6 & 4, Melbourne.
After I had my second daughter, I lost 12kg on the Healthy Mummy program, then went on to have a Healthy Mummy pregnancy with my third. Since having her, I lost 12kg again, but regained most of it. I recommitted to myself and the Healthy Mummy in 2020, and since have dropped a dress size and gained so much more energy, confidence and zest for life."
"For the second month of the 12 week challenge, my goals are to:"
Set up my exercise plan at the start of each week
Eat according to my meal plan. There are a couple of unavoidable times where I can't control the menu, but I'm going to enjoy every mouthful of food there!
Include more meditation/mindfulness in my week.
"Apart from the weight loss, the benefits from using the Healthy Mummy have made such an impact on my life. No longer am I skipping breakfast, but I'm having a smoothie each morning, and some days, I only have a minute or two to get something ready for myself. My exercise is consistent, it's varied and I enjoy every minute of it! After all these years, I'm now looking after myself first, and making sure I'm able to be a mentally and physically well parent, all thanks to using the Healthy Mummy program."
Eirini 3 tips on how to keep going when you feel like giving up
Start small by changing little things in your routine each few days/each week. They make a big impact when you put them all together.
Find exercises you love. You will enjoy it more and look forward to it!
It's ok to have rest days. Were busy mums and sometimes we have to stop juggling. I like to call them reset days when I take time with myself to refocus and reset my intentions.
Meet Jessica Dunjasky 
"My name is Jess, 34. I have three children aged 7, 6 and 4 months and live in the ACT.
In 2019 I lost 33kg with The Healthy Mummy. I had a reasonably healthy pregnancy,  but am now 9kg above my pre pregnancy weight… and back into The Healthy Mummy as I know it works.
I'm doing the 12 week challenge because I know it works and I have a wardrobe full of clothes that I need to fit into again. Plus it's easy to fit into my hectic family life."
Jess's Goals for the month
To fit into more of my pre pregnancy clothes,  I'm not focusing on scales for the  12 weeks but how my clothes fit.

To get back into the gym 4 times a week
To set myself daily goals each day and tick them off.
Jess's 3 Tips for getting started
Set daily goals… it's a great motivator to tick them off each day.

Things are always hard at the beginning but as you learn them you have in fact learned a new skill and they aren't hard anymore (credit to my son's teacher for that one).
Whilst we are all on a similar journey,  no one's journey is the same… people will change at different rates… focus on you and be motivated by others, never compare.
Join thousands of mums on the MUMS ONLY Challenge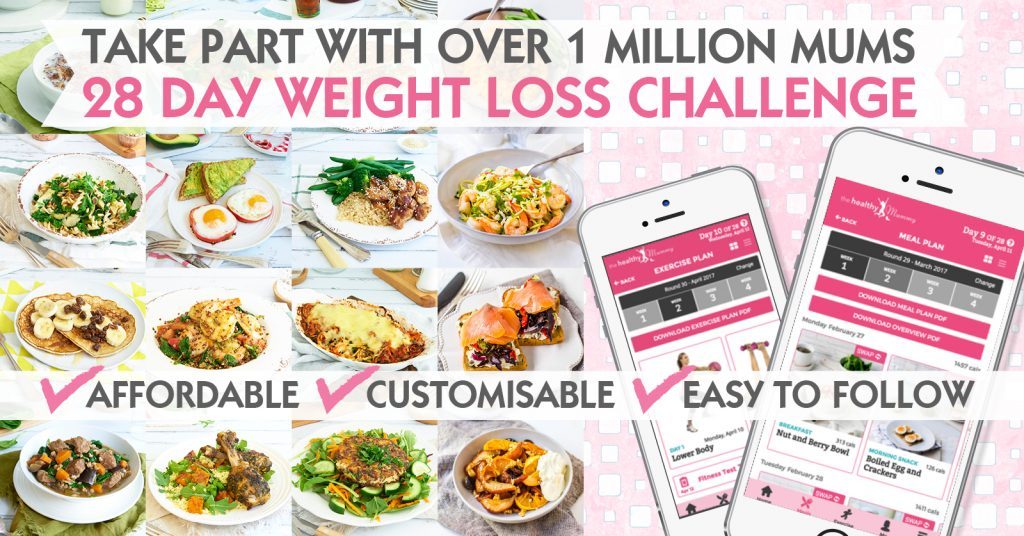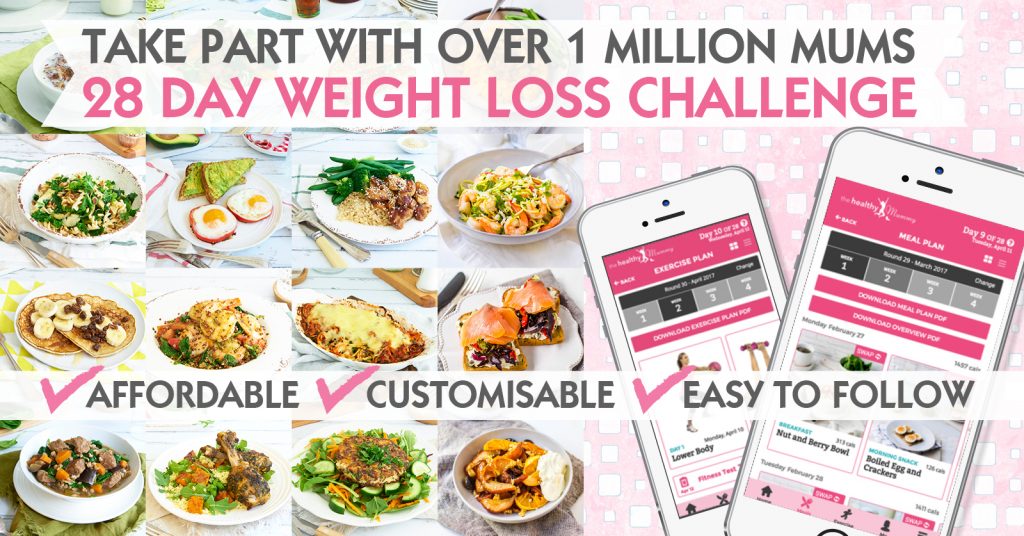 Join the thousands of mums on the 28 Day Weight Loss Challenge tackling and ACHIEVING their weight loss goals.
Whether you have 5 kilograms to lose or 35 kilograms to lose – The Healthy Mummy is here to SUPPORT YOU and your PERSONAL WEIGHT LOSS JOURNEY.
To find out more on the 28 Day Weight Loss Challenge click here.