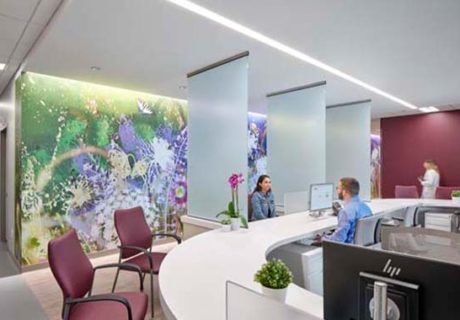 The main line of health (MLH), a not-for-profit health system serving parts of Philadelphia and its western suburbs, has been looking to expand beyond the traditional patient base, says JoAnn Magnatta, senior vice president of planning and design at MLH (Philadelphia). The opportunity to do so crystallized when MLH evaluated its women's offerings, which included comprehensive service but not much comfort. "We looked at the lines of women's services that are spread throughout the system and realized that it would be a positive step for us and our patients to bring these services together in one place," she says.
Through a joint project with the Doctors Group Axia Women's Health, MLH wanted to offer a comprehensive solution, serving women's physical, mental and emotional health and emphasizing wellness and prevention, with a variety of specialized services including breast health, digestive health, cardiovascular care, integrative medicine, obstetrics and gynecology, pelvic floor care and diseases Rheumatology, autoimmune therapy, skin care, weight management, and emotional wellness. Additional services for women include primary care, cardiology, endocrinology, neurology, general surgery, orthopedics, imaging, physical therapy, and laboratory services. "It was optimal for us to create a site where women could take care of all their healthcare needs in one place. We wanted the building to be welcoming, accessible and attractive," says Magnata.
Given MLH's focus on the King of Prussia area in Pennsylvania due to demographics and booming economic development, he found home for his new $ 64 million building in Village at Valley Forge, a mixed-use development. There was an explosion [in that area] Different types of businesses – healthcare, retail, fitness, big corporations – all with many female employees, "says Magnata. Children's Hospital of Philadelphia and other healthcare users were looking at the area, which was also a draw. Valley Forge is attractive as a unique and upcoming way to develop within a specific space in a specific area. It was the perfect location, on our minds. "
Construction began in June 2018 and a dedicated Main Line Health Center for Women opened in King of Prussia in March 2020.
Construction plan
Partners turned into Nelson Global (Philadelphia) for the design of the building, which called for 100,000 square feet of clinical space as well as more than 300 parking spaces on a steep, rocky site of less than two acres. MLH wanted a building that stood out but didn't loom large to avoid towering building codes, says Brad Earle, Nelson's managing director. The solution was a two-volume structure featuring a three-level entry suite and a six-storey tower with three levels of parking confined between the first floor foyer and the bed space on the fifth and sixth floors.
The building is organized with MLH recording, patient intake, laboratory, and imaging areas on the first floor and most of its clinical space on the fifth floor. Axia Women's Health and Community spaces such as conference rooms and an experimental kitchen are located on the sixth floor, while other tenants, including a rehab clinic and specialist fertility practice, occupy the remaining floors. The sixth floor also contains 9,000 square feet of seashell space for future construction.
To support a holistic approach to health, the MLH's fifth floor clinical space has been organized into nine 'neighborhoods', each focusing on a different specialty, such as breast health, cardiovascular care, and facial / ENT plastics, but is also capable of being flexible as per need and demand. For various disciplines. "The neighborhoods are connected to each other through a support team corridor that runs along the floor, allowing paramedics and trained nurses to adapt to capacity and move easily between disciplines, and go where they need it," says Andrew Simmons, Nelson's project manager. "The idea is cross-fertilization between staff and physicians who work together to achieve complete health and wellness of body and mind for patients."
Design solutions
Since the building is located on a slight promontory, about 3,000 feet from the Pennsylvania Turnpike and the major interstate highway, the project team wanted to ensure maximum visibility and make the structure stand out amongst the tallest buildings nearby. The design solution was to add large vertical "fins" in MLH green and blue colors that exit the building and are lit at night. Earl says the green carries over to the decorative screens on the tower, which mask the three parking floors while letting in plenty of natural light, making the garage feel as safe and non-threatening as possible.
Inside, the common spaces, comfortable seating groups, and the towering three-story foyer give an interior feel more like a boutique hotel than a medical office building. This is intentional, Earl says, as MLH and Nelson pursued a specific goal of creating a place that reduces anxiety with an emphasis on wellness and community. For example, the lounge and waiting areas on the bed floors incorporate combinations of various types of single and group seating in the lounge-like open spaces with coffee tables and side tables. "Each space provides patients with many options to work, read or chat while they wait for their appointments," says Katie Martinez, interior designer in Nelson.
Large floral drawings are a major component of a building's interior design to give it an exterior look. "The client wanted a timeless, neutral color palette for the permanent finishes, with vibrant colors brought in through art and graphics," says Martinez.
For example, a 17 'x 34' mural hanging above the reception desk acts as the focal point of the foyer foyer. The visually appealing image, a floral oil painting in vibrant hues of pink, red and purple, was commissioned for the space and reproduced on three vinyl canvas panels for installation. Digital close-up wall paintings of flowers also reserve elevator lobbies and add their colors (orange, blue, green, etc.) to garage levels as a path-finding tactic. Similar large images, printed on solid vinyl for durability, cover distinctive walls and hallways on the fifth and sixth floors, bringing color and liveliness throughout the clinical spaces. Its striking colors are complemented by more than 200 original pieces of art in a variety of styles throughout the building, sourced through MLH's ArtAbility program, which encourages people with disabilities to achieve, understand and inspire them through art.
To support MLH's further focus on wellness, Magnatta says the building's program includes elements designed to bring in visitors for reasons other than medical appointments, including a café near the front of the Entry Wing and The Wellness Porch boutique on the fifth floor, which provides tailored healthcare and wellness products. for women. The MLH space on the sixth floor includes community conference rooms and a pilot kitchen to host future educational programs, while the kitchen products will be planted in a planned rooftop garden at the top of the entry suite.
"We know we need to be able to diagnose and treat patients, but over the years we've shifted the focus to wellness and prevention, which is what made us think here," says Magnata. "We want to help people, especially women, exercise, eat right, take care of their minds and bodies, and strengthen themselves along the way. This is the theme in many of our facilities and is reflected in the program of this new building."
Project details
Project name: Main Line Health Women's Specialty Center King of Prussia
Project completion date: March 2020
Owner: Main Line of Health
Total Building Area: 100,000 Sq Ft.
Total construction cost: DND
Cost / square meter. Made: DND
Architecture: Nelson Cosmopolitan
Interior Design: Nelson Global
General contractor: IMC
Engineering: Pisarek Engineering, PC
Creator: IMC
Art Consultant: Carol Rubinstein Associates
Art / Pictures: Carol Rubinstein Associates
Equipment / Electronics / Audio-visual software: New Age Technology
Carpets / Flooring: Forbo, Stone Tile International, Tandus, Ecore Athletic, Armstrong Commercial Flooring
Ceiling / Wall Systems: Armstrong Commercial Ceilings
Doors / Locks / Hardware: Tru-Fit / Unified Door & Hardware Group, LLC
Textile / Textiles: Muharram
Furniture – Seating / Storage Boxes: Kershner Office Furniture
Handrails / Wall Protectors: Building Specialties, Acrovyn
Lighting: lighting solutions, focus lighting
Signage / Road: RMH Image Group
Hard Surfaces / Other: Dupont, Wilsonart
Wall cladding: 3 m
Illustrator: Sherwin Williams
Project details are provided by the design team and have not been checked before Healthcare design.