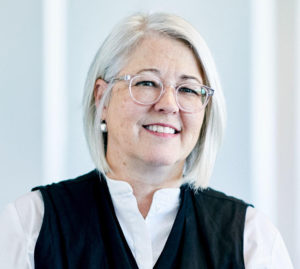 As a young professional working in healthcare design, I vividly remember taking conference calls from inside a locker so my clients couldn't hear my kids' voices from across the room. This was in the early 1990s, a time when the thinking of women at work was too dry and too dry: The women were either a full-time employee or a parent staying at home. But I turned down either / or options and created my own hybrid solution, setting up my own studio in my home and working directly with clients as part of a collaborative team with other freelance consultants. This approach gave me a flexible schedule to balance parenting while keeping my career progressing as it is. However, I couldn't tell clients that I was home working without this having potential negative effects on my career.
After several decades, the pandemic has, in some ways, accelerated the shift in our tolerance for working parents as our family and family personalities can no longer work in silos. Children and pets caught in the public eye during a video conference are now seen as lovable and become the norm. Acknowledging and accommodating our larger lives has been a step forward: COVID-19 has taught us, in some ways, that people can act effectively and effectively and still balance obligations and personal interests.
Despite these positive changes, it is hard to believe the extent we have yet to take. While the pandemic has facilitated some big steps in changing perceptions in an executive's ability to do family duties And the Performing their work, it has also shone a light on the gender inequality that still exists, and in some cases exacerbated it. For example, we know that women have been affected the most by COVID-19, as women have lost their jobs in greater numbers than men, according to PricewaterhouseCoopers. In addition, more women are choosing to leave the workforce after finding it difficult to reconcile work and childcare due to the closure or reduced capacity of schools, nurseries and other extracurricular programs. 2020 Women in the workplace Study before Lenin (Palo Alto, California) and McKinsey & Company (New York) found that 25 percent of women are considering leaving their job. Among women in leadership positions, three in four cite fatigue as the main cause.
Even before the pandemic, these stressors were the norm in the architecture industry. While I have a female company in leadership of healthcare more than a decade ago, most healthcare planning managers, practice leaders, and chief technical architects in healthcare are men. This corresponds to the data: A 2017 The survey By spreading architecture Seas It stated that women account for only 18 percent of partners or directors in architecture firms, yet they account for 50 percent of architecture graduates and new hires. These metrics, often called the "missing 32 percent," tell us that the recruitment and retention of women remains a blind spot. For women who leave the profession, according to the survey, the reasons cited include long working hours, lack of support, and lack of creative opportunities.
Healthcare projects are complex, and our project development work closely integrates with construction management and owner representatives. For women, we are often the only person within the team that represents project professions, such as engineering and construction, because they are also fields that are dominated by men. A work culture can be difficult for "one person only". It can be a stressful balancing act to align with your dominant work culture, while keeping a heavy focus on your own path of contributing, influencing, and staying true to who you are.
A recent experiment illustrates this issue. At an on-site meeting to review patient room forms with the client and contractor, the only member of the contractor team who managed the model process was present for the review. At the conclusion of the meeting, the male team leader thanked the team and offered a handshake to those in the ring. Remarkably, he ignored the woman and shook hands with her male colleagues on her left and right. She took a step forward and reached out, but she was simply not seen. The sting of the disappearance was visible on her face. Not everyone was recognized and her hard work to coordinate the construction. When you combine these types of experiences day in and day out, is it any surprise that so many women decide to fight for opportunity and that the support just isn't worth it?
But we can change course. It starts with being more intentional about our appointments and more strategically about how we support and encourage us and transform women into leadership positions. For example, with the realization that a woman's career path may not be as linear as a man's, we need to formulate different career development strategies to provide opportunities for advancement and advancement. For example, adopting the kind of mixed work environment that I've kept low for years could be a single model of work that gives women with young children a different choice, thus avoiding a gap in their CV, career development, and earning potential. Regardless of where work takes place, women can and should be assigned leadership with clients and project teams to help change demographics.
Second, the role of allies, or the active and consistent practice of advocating and supporting those who have traditionally been left behind, is crucial to promoting a culture of inclusivity. We need men in healthcare design to deliberate advocacy, nurture female colleagues, train women, position them as healthcare planners, technical engineers and design leadership. Most importantly, there is a need for better representation and visibility of women in leadership positions to encourage younger colleagues or recent graduates to pursue a career in architecture. A woman must be able to see other women to envision a path for themselves.
We know our best design outcomes when we work as an integrated, multi-disciplinary team – diversity across commercial disciplines contributes to creating end-to-end solutions. In serving our healthcare clients, we must ask ourselves how can design solutions for a diverse team better meet the needs of a diverse workplace where women occupy 76 percent of all healthcare jobs and achieve 80 percent of industry growth?
When we get women up, everyone wins.
Brenda Smith is a former nurse and health practice leader at Perkins+ Will (New York). It can be accessed at [email protected].