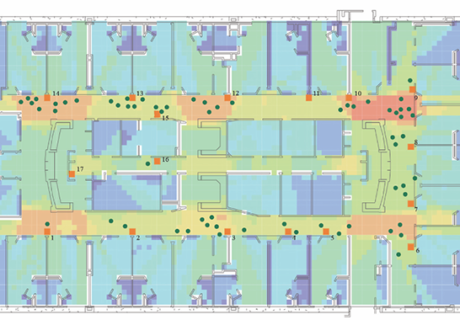 Hui Cai is making an impact in the industry on three fronts: educating the next generation of industry professionals, leading research in underserved regions, and collaborating with industry partners and professional committees.
In the classroom, Cai, who received her Ph.D. in 2011 from Georgia Institute of Technology, aims to connect education, research, and design using an evidence-based design approach, which she has developed through a variety of experiences, starting with working as a health worker. and research leader in CallisonRTKL From 2012 to 2013 to teach lectures and studios for healthcare design at the University of Missouri 2013-2014. She joined the University of Kansas (KU) faculty in 2014 as an assistant professor. In 2019, she was appointed Associate Director of the School's Institute for Health and Wellness Design (IHWD), where she led the education of the Graduate Certificate Program for Health and Wellness Design, and this summer was appointed as the chair of the Department of Architecture.
As a researcher, she has addressed underserved areas, including behavioral health and rural hospital design, to help draw students' attention to these topics. In 2020, Cai developed a research-based interdisciplinary design seminar with Professor Debajyoti Pati and interior design students from Texas Tech University, while sharing the collaborative class with rural hospital CEOs and other leaders on design approaches in response to the COVID-19 pandemic.
To further excite students' passion, she has engaged them in hands-on field studies and research publications, and in 2020 she has directed graduate students in post-occupancy assessment research on the effects of visibility and accessibility of hand sanitizer dispensers on nurses' hand hygiene compliance, with work published in Journal of Healthy Environment Research and Design (HERD). At the start of the COVID-19 pandemic, she worked with colleagues at KU and the American Institute of Architects to launch ArchMap, an online database and dashboard documenting design and construction efforts at alternative care sites. In addition, she transferred her expertise to the Facilities Guidance Institute (FGI) by participating in the 2020 Health Guidelines Review Committee Topic Group for Rural Health and the Small and Rural Health Subcommittee of the Emergency Committee.
What do you love most about your job?
One of the parts I love is the potential impact it could have on healthcare designers and medical planners in the future. I am pleased to be able to help students find their passion for healthcare design and begin to understand the effects that the healthcare environment can have on patients, families, and healthcare professionals. It has been particularly evident over the past year when students have been involved in designing alternative care sites to increase capacity for COVID-19 patients, and have realized the important value of healthcare designers' work in everyone's lives.
What industry challenges do you hope to solve?
Health disparities in rural communities and lack of support for rural health care facilities. More research is needed to support health care designers to develop evidence-based designs in rural health care facilities to provide more efficient care suited to the unique rural context.
What is the next major trend for healthcare design?
Integrating telemedicine that delivers safety and efficiency with human-centered care that provides a high-quality personalized experience. Future healthcare design will also have built-in flexibility and better emergency preparedness.
Who/what inspires you?
I have been fortunate to have worked with many great mentors, such as Dr. Craig Zimmering, Dr. Kent Sprekelmayer, and Dr. Frank Zelm. They are role models for me and inspire me to be a good teacher like them.
What have you learned over the past year?
Flexibility and adaptability. The past year has presented great challenges in many aspects, but I was amazed at how resilient we were as a society. I think the key is to be flexible and adaptable, and always maintain a positive attitude.