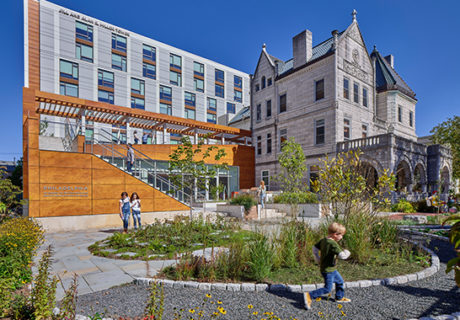 Like over 300 Ronald McDonald House Charity (RMHC) Worldwide, RMHC in the Philadelphia area provides temporary housing for families with children receiving medical care at nearby healthcare facilities. The organization's West Philadelphia site opened in 1974 in a historic mansion, with additions made over the years. In 2018, RMHC teamed up with Iwingcool (Philadelphia) To expand the home presence to enable the organization to grow from serving 800 families to 1,900 families annually.
The 93,000-square-foot project, which was completed in January 2020, includes a new reception area, 96 family bedrooms including 12 with wheelchair-accessible bathrooms, and eight protected patient wards in an isolation floor for individuals suffering from HIV. In addition, the existing buildings were renovated and the addition of a two-level garden and courtyard between the expansion of the tower and the existing palace, providing a buffer space from the city as well as a gathering place for families. "The project program extends the existing facility from home to community," says Saul Gbawi, Director and Design Director at EwingCole.
The design includes positive diffusers, plus daylight and views through skylights and windows. Moreover, the first floor of the existing building has been refurbished so that play and family areas are spread throughout, and a new kitchen has been added for use by a chef or families.
The design also includes environments with different levels of privacy to support different residents' needs and provide places to rest and share. "Some sites have more active architectural interventions, colors, and design elements, while others are quieter, allowing individuals to interact quietly with a family member," says Jabawi.