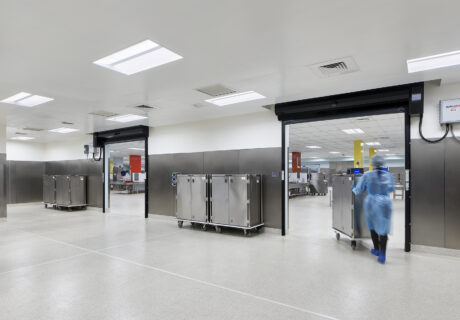 opened in february, Medicine Ben100,000 square feet Interventional Support Center It integrates its clean sterile services into an off-campus location – a move that has helped the organization's scaled operations and improve efficiency and employee safety. But before they could achieve these goals, the project team including your stank (Philadelphia and Chicago), they had to design a new central aseptic facility that supports a new way of handling, cleaning and storing operating room case carts for multiple locations.
While on site, soiled instruments travel directly from the operating room to central sterilization services for cleaning, with the new off-site facility, the project team had to figure out how to process and process instruments from several facilities. For example, instead of receiving one cart at a time, here, the status carts will be grouped into groups of 20. "So the whole flow starts to change a little bit," Hof says. "And the main mandate from Penn Medicine was that everything should be broken and started to clean up when it arrived so we couldn't let things pile up."
Unlike other healthcare projects where teams can look at previous case studies for ideas or lessons learned, here, there was no peer facility to help guide the Penn Medicine project, says Scott Hof, director of Stantec (Philadelphia). "This was the largest of its kind, so there was nowhere we could go and pretty well say you know what a good starting point is," he says.
To begin managing this new flow, the project team observed every step in the process, including smashing a cart, cleaning all tools, storing, cleaning, sanitizing, and rebuilding the carts. "We had to extrapolate that into studying the movement of time and testing the design of the facility as it evolved to make sure we wouldn't run into any bottlenecks," he says.
Another nuance to the process was the addition of pneumatic locks between the loading dock and inside the facility. While it was designed to ensure the requirements of air pressure, temperature and a dust-free environment, its presence added an extra step in moving the wagons through all the different stages. "What we realized as we experimented with this simulation was that the original design would not work the way cases would be set up and organized to wait for trucks to bring back to the hospital campus," he says.
The original design had one large vestibule that could accommodate all the trolleys but would be inefficient as the staff moved in and out of the airlock. The design was altered to create two different halls on the cargo side so that at any time one of the vestibules could be open for staging carts that would have been out in two hours, while the other fully filled case carts could be opened on the loading dock for transport. "This simple step of creating two vestibules out of one really improves the flow of trolleys as they are complete and ready to ship," he adds.
For more information on Penn Medicine's new Interventional Support Center, see the August "Clean Slate" article in Healthcare Design Problem or click Here.