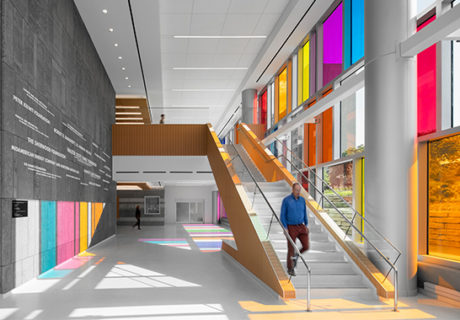 Inside the Omaha VA Ambulatory Care Center (Omaha, Neb.), Colored light flows through a long corridor connecting the new facility to the existing Omaha VA Medical Center. Along the western façade of the 157,000-square-foot addition, the corridor's long curtain wall of stained glass symbolizes "bars of honor" that veterans have acquired and placed on their lapel. "Every day, whether you are a patient, a visitor, or even a service provider, everyone is reminded of the veteran warrior, the honor and the respect they deserve," says Jonathan Flegg, Senior Associate and Design Director at Liu Daly (Omaha), which provided architectural, engineering and interior design services for the project. You are roughly 'breathing' the color as you pass through this space.
Not only is the project a new Department of Veterans Affairs outpatient facility, but also the nation's first public-private partnership-funded healthcare facility to be delivered since Congress approved communities that help invest through property and required improvements (CHIP IN). Veterans Act 2016. "The CHIP IN for Vets Act allowed for private fundraising with VA dollars to implement the project," says Jeffrey Monzu, Vice President, Senior Project Manager, at Leo A Daly (Omaha).
The original Omaha VA Medical Center was built in the late 1940s and is long overdue for its replacement, but has remained suspended due to other priorities. Realizing the need to expand access to healthcare for the region's 40,000 veterans, a local donor group sought to capitalize on the CHIP IN program and formed the nonprofit Mobile Care Development Foundation (VACDC). VACDC went to raise $ 30 million to supplement the $ 56 million already allocated by the VA for an alternative project (the group oversaw the distribution of funds as well as construction).
While the total funding – of $ 86 million – was not enough to build a complete hospital, it was used to build a new three-story outpatient center, which opened in August 2020. "Other than private healthcare, the Department of Veterans Affairs has spent resources in years The past several improved outpatient services and their network of community outpatient clinics. This approach provides more opportunities for veterans to access primary, preventive, and mental health care, thus improving their overall health and reducing the need for more important and intensive inpatient care and procedures, "Munzo says.
While the previous setup had outdated VA clinics spread throughout the 12-story hospital, making it difficult to navigate, the new 156,000-square-foot facility offers seven primary care clinics on the ground and first floors in addition to Women's clinic. A clinic with dedicated waiting and service areas on the ground floor (a first for a VA). A specialty care clinic shared with orthopedics, cardiology, and other specialty medicine practices; Rays. The second floor occupies a new outpatient surgical center. A new connector on the first floor provides direct internal access to the existing hospital, which continues to be used for patient stays as well as administrative offices and medical services.
Symbolic design
The outpatient facility is designed to create a patient-centered experience for veterans that clearly reflects dignity and respect. "The main guideline, as a term, was" veteran-centered. "As a starting point, members of the design team asked themselves a big question: What does a veteran mean to you in this community? And coming up with ideas. They all seem to turn into a few buckets, which were a sacrifice, freedom, duty, and honor, "Flegg says.
These themes led to the design of three signature elements for the facility. The first is an undulating glass curtain wall on the north façade of the outpatient center, 50 feet high and 235 feet wide to represent the American flag in the wind. "Ultimately, a whole group of our community volunteered their time to protect our country," says Fleg. "It was a way for us to reflect our respect for that common sacrifice and the freedom they offer us."
The curtain wall multi-variable aircraft, along with the blast requirements of the federal structure, were designed for a complex manufacturing and construction process facilitated by a combination of custom build processes and getting specialized subcontractors on board early on.
These challenges also emerged with the second signature element, the colorful "ribbon wall" along the western façade that connects the elbows. Team members learned that by using tinted sheets instead of glass on windows, they could significantly reduce costs and meet blast requirements that required the use of foil on windows to reduce shattering.
The third element, a limestone wall running along a continuous level within the facility, represents the duty. Since limestone is a sedimentary stone that builds up over time, the wall represents the layers of dirt that veterans trace onto their boots after their service.
These three defining features also informed the space, Monzo says, namely planning and organizing. "It's easy for patients to come and intuitively understand where they need to go," he says. For example, the main lobby entrance features a large warm white oak stairway that leads to a 3,000-foot corridor that connects to the current hospital. The layout of the primary care clinics on the ground and first floors is the same, except for the separate women's clinic, which is located across from the main entrance. "Placing the women's clinic on the ground floor was strategic to provide a visible, private and easily accessible health resource for female veterans who chose to use it," says Jennifer Ankerson, chief interior designer at Leo A Daly (Omaha).
On all three floors, a limestone wall element separates the public space from the private clinic area. "So, metaphorically, you pass through this gate from a stone firewall and you're kind of safe on the inside when you're at your most vulnerable," Fliege says. "After the test or procedure, it passes again and is back into the public domain."
Waiting areas, opposite the limestone wall, are arranged on the side of the "flag wall" to increase access to daylight. From here, veterans make their way to test rooms through private perimeter corridors that lead to the VA's Patient Care Team (PACT) clinic spaces, which feature examination rooms surrounding the team space in the middle. Monzo says clear, separate access points for staff and patients support flexibility of use and collaboration for employees.
"There are more opportunities for them to share ideas, information and consult with other staff without being in a corridor outside another patient's room," Monzo adds. For veterans, the plan offers a more dignified patient experience. "They don't walk by nurses' stations or see caregivers talking about other patients, etc."
In the same way, there is a clear separation of traffic in the back areas of the house. For example, from an outpatient surgery center, staff can transport patients who need more severe care to the hospital through a separate service corridor on the second floor. Dedicated service and staff areas, including glass-walled conference rooms and team space, are also located in areas outside of the theater and overlooking a new treatment garden located between the new center and the current hospital, providing nature views and access to daylight for staff and patients in both facilities.
Finally, the interior design of the facility was informed by those symbolic elements as well, and supported by a minimalist approach. "If you look at the interiors, the goal was to always have these three elements the star," Ankerson says. This was achieved through the use of a soothing, almost monochromatic color palette of grays with warm woods and splashes of color. For example, the check-in and check-out desks on each floor, which seem almost carved into the limestone wall, are framed with white oak trim to support the overall clean aesthetic. The furniture was mainly inspired by "strip wall" colors, while artworks commissioned by local veterans were skillfully placed on the walls to create a calm, relaxing environment that respected veterans.
An unforgettable moment
All stakeholders agreed that it was the level of cooperation, instilled early and lasting throughout the project, that proved most beneficial to the Omaha VA Ambulatory Care Center. "The team's collaboration is perhaps the biggest thing that helped make this project a success," says Ryan Swall, senior vice president at McCarthy Building Company, Inc. (Omaha), the contractor for the project.
"It is one of those projects that will be special for everyone who has participated for a very long time."
Evidence can be found at the end of the project, when local VA representatives gave the donor group a gift of a bald eagle statue that had been placed in the Healing Garden. "This, in short, embodies the relationship between all the major players in this regard," says Flegg. "We seem to be gushing, but in 27 years at Leo A Daly, this was a special project for sure."
Project details:
Project name: Omaha VA Ambulatory Care Center
Project completion date: August 4, 2020
Owner: US Department of Veterans Affairs
Total building area: 157,000 square feet.
Total construction cost: $ 67.3 million
Cost / square meter. Foot: $ 429
Architecture: Leo Dali
Interior design: Liu Dali
General Contractor: McCarthy Construction Corporation.
Engineering: Liu Daly
Creator: McCarthy Construction Company.
Carpets / Flooring: Jonesonet, Technoflor, Batcraft, Atlas, Mohawk
Ceiling / Wall Systems: USG, Rulon International Inc. , Johnsonite, Koroseal Arbor Wood, Sherwin Williams, Tnemec
Doors / Locks / Hardware: AD Systems, VT Industries Best, Glynn-Johnson, LCN, Assa Abloy, phi Precision, Stanley, Trimco
Furniture – seating / storage boxes: Steelcase and Herman Miller Solutions
Handrails / wall protectors: C / S Acrovyn
Lighting: trademark lighting, focal point
Signage / Road: ASI
Surfaces – Hard / Others: List Terrazzo, Stonhard, Laminart, Crossville, Atlas Concorde USA, Ceasar USA
Casework Factory: Woods Designer
Exterior materials / finishes: US Stone, AWS, Metal Specialty Systems, Inc.
Others: precast concrete for foundations (MFG precast); M&M steel fitting (custom glass and steel canopy, steel fitting); AWS (custom glass and steel canopy, glass fitting), Keystone Glass Company (outdoor glass railing)
Joan Blokova is a freelance writer based between Jupiter, Florida, and Prague, Czech Republic. It can be accessed at [email protected].