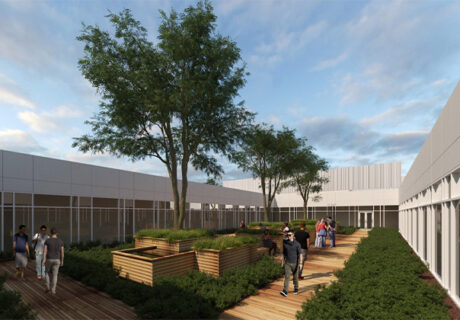 The University of Maryland Upper Chesapeake Health (UM UCH; Bel Air, Maryland) wanted to offer a new medical facility to support the health and well-being of residents on its Aberdeen, Maryland campus, as well as a medical facility that was flexible in design to support the region's growth and needs. The future medical center will increase access to services, coordinate efforts between hospital and community care providers, and will be supported by the latest technology.
UM UCH Medical Center in Aberdeen will open in the spring of 2023 and will include three major projects. The first is a new wing that will include inpatient and outpatient behavioral health services. The 33-bed inpatient unit will be designed around a neighborhood concept with access to an outdoor patio and self-contained housing-like areas. This creates a home-like feel to deliver improved patient and family experiences. As the new medical center also looks to transform care for the area while increasing access to needed services, the ward will provide a comprehensive gamut of care for behavioral health patients. At the same time, it will serve the general acute care needs of the community.
The project also includes a self-contained 70,000-square-foot medical facility with an emergency department, triage and treatment rooms, as well as behavioral health crises and observation beds. Specialized services, such as diagnostic and imaging areas, are also planned. The design provides the flexibility to transform the medical center for a multitude of uses. In response to the pandemic, and to best meet future needs for patient isolation, the Behavioral Health Crisis Center has been designed as a negative pressure area with the ability to operate as a self-contained unit. Touchless technology, hard-surface materials, and antimicrobial finishes have also been incorporated into the design throughout the new campus.
The new Aberdeen campus will also include a new 75,000 square foot medical office building. He will provide primary care and outpatient care, as well as medical and surgical specialties. A covered walkway connects the MOB with the stand-alone medical facility supporting the continuity of care from inpatient to outpatient services.
Project details:
Facility Name: University of Maryland Upper Chesapeake Aberdeen Health Medical Center
Location: Aberdeen, Md.
Expected Completion Date: Spring 2023
Owner: UM Upper Chesapeake Health
Total building area:
Free-standing 131,000 sq ft medical facility/behavioral health ward;
75,000 square feet medical office building conversion
Total Construction Cost: Not Available (Project In Progress)
Cost / square meter. Submit: Not applicable (Project is in progress)
Architectural firm: Erdmann
Interior Design: AARDMAN
General Contractor: Erdmann
Engineering: AARDMAN