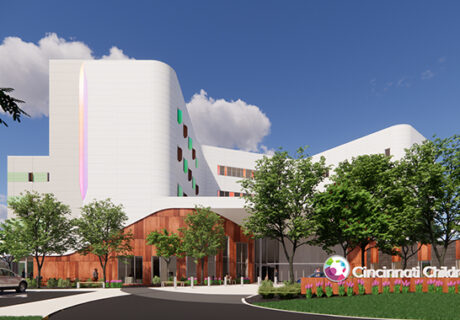 Cincinnati Children's Hospital Medical Center in Cincinnati, Ohio is expanding mental health services for children and adolescents with a new five-story, 160,000-square-foot facility currently under construction on their campus in the city's College Hill community.
The design of this facility was an opportunity to rethink the range of therapeutic settings known to the environment. These are the places where patients spend most of their time, participating in group therapy, guided activities, free choice time, and other therapies. The design of the building was influenced by the location, the diversity of the environment in the units and their role as common resources and destinations. The design emphasizes meaningful environments that simulate navigation during the day, such as the changing classrooms in a school. Spaces include positive distractions and allow for different behaviors – such as pacing, rocking, or self-expression; Built-in seating and corners allow patients to comfortably occupy the edges of the room.
There are private inpatient rooms in 'sleeping suites' distributed over each unit; Sleeping suites can be closed during the day as patients participate in group therapy, guided activities, free time and other treatments in the surrounding spaces.
Creating a more transparent environment was another goal of the project. The new building will house a greater range of common spaces outside of patient rooms, providing more opportunities for families to support children during treatment. Families will also be able to access support through the Family Resource Center and Café.
Dichroic glass on the exterior facade and in a skylight in the lobby add a sense of transparency, invite curiosity, create interest, and a feeling of something new on each visit. The new admissions area will enhance the admissions experience by providing a central location for patients to receive initial medical evaluation and counseling prior to their admission. It features an open entrance, a dedicated entrance for patient transport, and space for families to wait.
The building will have a lively feel, incorporating materials that evoke nature, rounded edges, abundant sunlight, and views of the landscape – all designed to encourage visitors to stay and make it a haven for patients and their families alike.
Project details:
Facility Name: Cincinnati Children's Hospital Medical Center, College Hill's new behavioral health facility
Venue: Cincinnati, Ohio
Expected completion date: late 2023
Owner: Cincinnati Children's Hospital Medical Center
Total building area: 160,000 square feet.
Total project cost: $99 million
Cost / square meter. Feet: undisclosed
Architectural firm: GBBN
Interior Design: GBBN
General Contractor: Maissar Construction
Road, Art and Graphics: Kolar Design
Architectural Support: WA Architects
Builder: Construction Facilitator
Engineers: Schaefer & JCA (Structural); CMTA (MEP); Bayer Baker (civilian)
Technology: Motz Engineering
Lighting: AEI & Pivotal
Landscaping: The Kleingers Collection
Sustainability: Sol Design + Consulting
Medical Equipment: Walsh Consulting Group