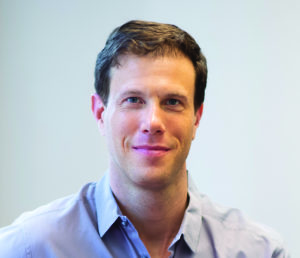 Healthcare research was front and center during Nicholas Watkins' undergraduate and doctoral studies at the University of Illinois at Urbana-Champaign, but during his Psychology 101 class, he is first exposed to environmental psychology and Roger Ullrich's groundbreaking study of how building the environment can influence health care outcomes. Watkins says realizing how a field can develop basic physical and psychological needs gave architecture a "higher purpose". After graduation, he continued to hone his skills at several companies, including Cannon Design and HOK, before joining Gensler In 2017. These days, he is also "testing" new operating strategies when taking a break from professional research.
What attracted you to the research profession?
The University of Illinois at Urbana-Champaign is a great pool to wander around and amass a lifetime of passion before you even realize this is what's going on. Several faculty from the Departments of Anthropology, Architecture, Educational Psychology, Landscape Architecture, Natural Resources, and Psychology adopted me, nurtured my interdisciplinary interests, and believed in me. They are my heroes.
What was the first research project specialized in health design?
Design research for cancer centers and translational research facilities while at Canon Design. By far, clients and study participants were the most memorable aspect of the projects. To see how research enabled them to do that, and their decisions gave me goose bumps and feel good.
What is the design lesson from this project that you still carry with you today?
Beware of "washing the evidence". Community, college, media, project commitments, and other forces shape expectations that design research will reveal "big" facts that can be applied to every project and reinforce what designers and clients already know. The irony is that design solutions then risk being applied to a project without researching the needs and opportunities of a particular project.
Three healthcare projects I've worked on last year and your turn
1 National Study of Outpatient Experience, Principal Investigator.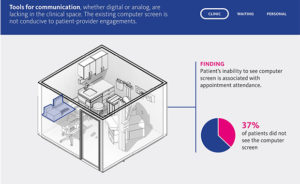 2 Mt. Sinai Peak Health Clinic for the future, Principal Investigator.
3 Research-informed principal planning from Sharp HealthCare, Principal Investigator.
What do you like most about healthcare design research?
Research findings that offer simple and successful design solutions that promote quality, empathy, altruism, or well-being without anyone's conscious awareness. Standard clinics and units are always fun. You can see how peer and patient appearances improve interactions while reducing unnecessary searches and solutions.
What challenges are related to your work that keep you awake at night?
My brain is racing with interesting ideas, research questions, statistical models, moving data from interviews, and mixed research. I have to read boring fiction books with long sentences until I fall asleep.
Three unexpected things are on your desk
1 Colorful ceramic rooster statue named "Cecil".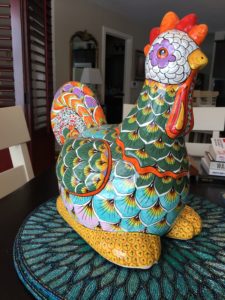 2 sleeping blue British kitten called "Tippy".
3 coffee mugs covered with colorful pictures of English birds (a gift for my dad I will never part with)
Out of the office, you will probably find me….
Writing poetry or fiction, reading, having lunch by the river, or playing sports. Current readings are very varied, from "Moby Dick" to "Cognitive dissonance: Edition Two," and lunch always includes a chocolate-covered English dessert from a nearby candy store.
What new hobby did you gain during the Coronavirus pandemic?
I now spend a portion of my rounds retreating. I am told this should help my balance. It's also fun to see people trying to understand what I'm doing.
A dog or a cat?
I love both and I like to mix my guinea pig, crab and cockatiel there as well.
Coffee or tea?
coffee. If you need a real kick, then Harney & Sons Hot Cinnamon Spice.
Someone morning or night owl?
I am not completely human until I have my morning coffee.
Fiction or Realism?
I gave up trying to distinguish 20 years ago.
Window seat or aisle?
Certainly a window. It is wonderful and comfortable to see how calm and beautiful the world is from a great height. I never get tired of it.
How did you make your first dollar?
I picked a liter of strawberries for 5 cents each.
Going to your karaoke song?
Momentum by Aimee Mann (Mercy on the poor soul that should listen).
The first album I ever bought.
Sherrill Crowe – "Tuesday Night Music Club".
Cocktail of your choice?
Jungle bird.
Your hidden talent?
Tightening to jump back.
If you weren't a researcher, you would be …
I love what I do. I can't think of anything else.
You have an irrational fear of …
Dolls. Why would anyone like a little human or child who just stares at things? This is not normal.
The last game you played?
My cat loves to play fetch and I always find that makes me happy.
Favorite …
quote "Today could be the day I am mistaken for an important person." – Whistling from "Keeping Up Appearances."
Movie character Who plays Tony Collette in any movie?
Weekend activity Spending time with my nieces and nephew.
Ensemble / Music Artist the killers.
the color red.
Application / website Informed daily.
Eat a snack when traveling Black licorice.
Ice cream flavor Sherry garcia or rum raisin.
sport football.
Team St. Louis Cardinals.
Hobby writing.