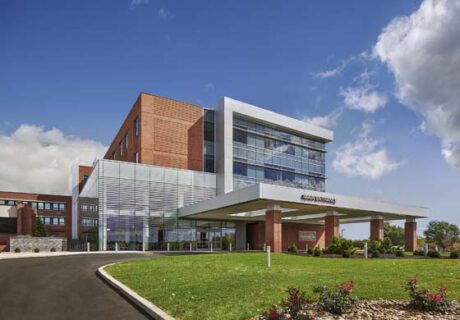 Finalist – Healthcare Design Presentation 2021
CallisonRTKL has worked with Evangelical Community Hospital (ECH) in Lewisburg, Pennsylvania, to revitalize the existing community hospital with a new bed tower. Through the Patient Room Improvement, Modernization and Improvement Project (PRIME), we have created a modern space that delineates the pathway with natural light through a series of courtyards and openings to guide the user through the new tower to the existing hospital.
The ECH PRIME Tower represents an opportunity to modernize the facility and bring the community back to the hospital with a renewed brand and patient experience. The goal was to seamlessly connect the new tower to the existing facility, provide access to expanded patient services, and build on the community's long-standing relationship with the hospital. The new tower touches the existing hospital in two locations to connect to the existing circulation, while the remaining footprint is retained to create courtyards along the main promenade.
The narrow floor plate allows light to penetrate deeper into patient floors to reach the clinical support center to connect staff outside. Light, neutral, and reflective colors were chosen to bring light deeper into the floor's primary support areas and to increase ambient daylight. Wood is introduced to complement views of the landscaped courtyards in the large expanses of glazing along the ground floor promenade and utility spaces. Black steel detailing throughout the facility references the context of Central Pennsylvania and is used at visitor guide points. Color is introduced through the choice of furniture and large custom wall graphics along the corniche and on patient floors and treatment spaces. The ground floor drawings are one-of-a-kind artistic reproductions of the local landscape that were commissioned specifically for the project. The graphics on patients' floors have been chosen by the nurses serving the unit and provide each department with a unique identity.
Within the new building, views of the existing campus have been carefully chosen to maintain a frame of reference familiar to the community. Movement through the new space is designed and enhanced by strategically placed openings and landscaped courtyards to blend the experience of old and new.
To provide future flexibility, switchable negative pressure chambers were added next to the isolation chambers during construction. This created several blocks of rooms that could be activated with increased demand under conditions of emergency surge. The lobby and conference center are also designed to be flexible, and are used to host community events focused on residents' health and wellness. The adaptive design now serves a very important function as an overall community pollination site.
Project Category: new construction
operation manager: Kendra A. Aucker, President and CEO, Evangelical Community Hospital
Establishment: CallisonRTKL, www.callisonrtkl.com
design team: CallisonRTKL (Architecture, Medical Planning, Interior Design, Medical Equipment Planning, Construction Management)
Total Building Area (Square Feet): 130,000
Construction cost / square meter. Foot: $427 (new); $300 (to renew)
Total construction cost (excluding land): $51.2 million (new); $3.6 million (renewed)
complete: September 2020