As a company you'd thought we'd be content to provide our fans and newcomers alike with a sticky sweet candy bar to replace high-sugar candy, but no. We had to go and make whole desserts based on our new Candy Bites and we're not mad about that at all. You won't once you slice in this delicious skillet. Talk is cheap, time is valuable and this recipe is waiting for you, so enough of us, it's time to bake!
Check out the full recipe below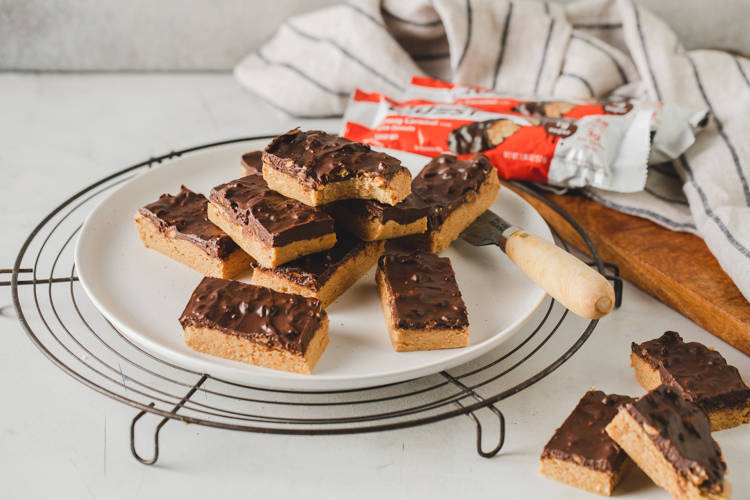 Nutritional information
Caramel peanut butter
yields: 12 servings | Serving Size: 1 bar
Calories: 170 | protein: 8 grams | Fat: 12 g | Net carp: 5 grams
Total carbohydrates: 12 grams | sugar: 3 grams
Preparation time: 15 minutes | Baking / Chill Time: 25 minutes | Total time: 40 minutes
Ingredients
Caramel peanut butter
method
Line the baking tray with parchment paper and set aside.
Put the peanut butter, protein powder, syrup and coconut flour in a mixing bowl and using a rubber spatula, stir until combined.
Press the mixture on the bottom of the prepared tray.
Melt the chocolate and coconut oil in the microwave at 10-second intervals, stirring between each, until the chocolate melts and becomes smooth.
Add candy slices to the chocolate and stir until well covered.
Pour the chocolate mixture over the peanut butter and spread in an even layer.
Cool until the chocolate is solid.
Use a sharp knife to cut it into 12 equal-sized pieces and serve!
.