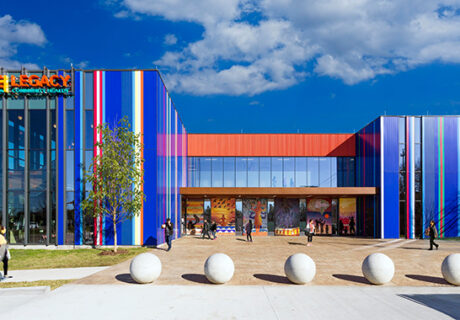 Houston's southwest side is home to two struggling neighborhoods: Gulfton and Sharpstown, where more than 30 percent of the population lives below the poverty line and chronic disease rates remain high. Legacy Community Health, a federally qualified, full-service health center that operates 40 clinics in southeast Texas, has sought to address these challenges. "We started seven years ago by purchasing a building with an existing practice to serve those neighborhoods," says Joel Calmin, director of facilities planning at Legacy Community Health. "Over time, we have put this building through three large-scale renovations to accommodate our growth there and provide expanded services."
When a vacant plot adjacent to the clinic became available, Legacy saw its opportunity to expand significantly and continue to meet the growing demand for health services in the area. To achieve this while keeping the existing 14,000 square foot building open during construction, the new 33,000 square foot clinic was built on the vacant land; Upon completion, the old clinic was demolished to make way for a new 160-seat car park. "We've done an extensive survey of surrounding healthcare providers, as well as the needs of the community, to make sure that the new clinic will have a greater impact on the community it serves than the previous one," Calmin says.
Located on 2 acres and designed to serve more than 100,000 patients annually, the new clinic includes two major new services – adult medicine and an on-site pharmacy – in addition to all services offered on the previous site, including pediatrics, women's health, behavioral health, and a post-clinic Attendance, imaging, phlebotomy lab, immunization clinic, educational classes, and social services. Recent offerings include "a wide range of psychosocial services for patients and their families, including case management, patient advocacy, and psychosocial support," Calmin says.
specific location
Legacy hired to deliver the new complex was Perkins and Will (Houston). As the project's master planner, architect, and interior designer, the design team used a rectangular building shape to fit the narrow plot, with a full ground floor and a partial second floor. That format, in turn, drove the clinic's entry experience, says Diana Davis, director and managing director of Perkins & Will's Houston studio. "Because a lot of the clinic's clients come to it on foot or via public transportation, we used the end of the two-story building to create an outdoor skylight that would provide some protection from the elements as they prepared to enter the building," says Davis.
Inside, the complex's center includes 64 exam rooms for primary care consultations and specialized services, including pediatrics and OB-GYN, with rooms grouped into three groups of 18 on the first floor and one group of 18 other rooms on the second floor. Each of these capsules has a backbone of the employee workstations that run its center. "The exam layout and team spaces are designed to increase the efficiency of patient care," says Corrine Rojas, interior designer at Perkins & Will. "Each exam room is configured as an on-stage/off-stage experience with double entry doors that allow a patient care team to consult right after the test, while at the same time another team is able to set up the room for the next patient."
The 1,400-square-foot interior pharmacy, located on the opposite end of the building from the main entrance, is accessible via a public corridor that runs the length of the facility, as well as from a designated exterior door. "The indoor pharmacy entrance reduces people's need to stop elsewhere on their way home when they're not feeling well," says Legacy's Calmin.
"Our pharmacy and clinic integration improves medication adherence and therefore results. We have also included a separate external entrance for those who don't come straight from an appointment but need to refill their prescriptions."
In addition to examination rooms, the clinic's smaller second floor houses classrooms to host community health classes, a community arena for informal mingling, and a community room where staff members meet with patients to arrange payment plans.
Perkins & Will also conducted extensive consultations with clinic staff about their needs, resulting in two designated resting places for staff—a break room with its own kitchen and a lactation room—also located on the second floor. Both areas can be accessed via a private staircase that also provides employees with direct access to other spaces on the floor. In addition to the second floor offerings, the designers also created eight rest areas with sofas and lockers along a first floor private corridor with large windows. (This entrance is located across from the building from the main public corridor that connects the lobby area and the pharmacy.)
meaningful details تفاصيل
Besides improving the patient and staff experience at the clinic, the project team sought to offer a community-connected facility. This message begins upon the entry experience with an outdoor mural created by Houston-based artists Angel Quesada and Jesse Sifuentes. Using cathedral glass and acrylic enamel paint, the six 11-foot panels are titled "Together with the Sun." Inspired by the colors and motifs of textiles from Latin America, Asia, and Africa—the dominant regions of neighborhood dwellers—the motifs in the paintings represent promising and imaginative images of families and communal social structures, where the sun symbolizes life—Davis says it gives warmth.
Also reflecting the diversity of the region it serves – residents hail from a total of 80 countries and speak 50 languages ​​- the building's exterior includes a bold color palette of bright turquoise, orange, and yellow tones to honor the cultures and textiles of the previously mentioned regions as well as serving as a nod to the Legacy logo.
A similar look to the exterior appears throughout the clinic's interiors, including panels handcrafted by artisans from the African nation of Senegal that are incorporated into the main stair railings and privacy screens inside the pharmacy. Additionally, the interior public spaces feature mosaic tiled walls and backlit signage that act as cultural icons and support the clinic's color-coded route marking system. "Because of all the languages ​​spoken in the surrounding area, we thought it would be best to create color-coded areas throughout the place," says Rojas. "Each entry and waiting area for its assigned exam bay is color-coordinated. So, for example, someone there for pediatrics is following the greenery throughout their visit."
Put to the test
The clinic opened in December 2019. Just a few months later, with the first wave of COVID-19 in the United States, the new outdoor pharmacy parking area was transformed into one of the first locations in the Houston area to provide COVID-free. 19 test.
This flexibility, Calmin adds, shows how the new clinic has helped "exceed our expectations of providing equitable health care to a high-risk community in a respectful and culturally sensitive manner."
Project details:
Project name: Legacy Community Health Southwest Clinic
Project completion date: December 2019
Owner: Legacy Community Health
Total building area: 32,852 square feet.
Total construction cost: $11.3 million
Cost / square meter. Feet: $345
Architect: Perkins & Will
Interior Designers: Perkins & Will, Legacy Community Health
General Contractor: Harvey Builders
Engineers: Walter P Moore (Structural and Civil), E&C Engineers (MEP)
Builder: Harvey Builders
General Art Consultant: WAG – Weingarten Art Group
Carpet/Flooring: Batcraft, Tarquette
Ceiling/Wall Systems: Armstrong, Ceilings Plus
Doors / Locks / Hardware: DIRTT
Fabric / Textiles: Standard Textiles
Furniture – Seating / Wardrobe Cabinets: Pins, All Seats
Lighting: Delray, Luminis, 3Form, Corelite, Metalux, Atlantic Lighting, Neo-Ray, Nulite, Ametrix
Signs/Way Marking: Riot Creative Imaging, Neon Electric Co.
Surfaces – solid / other: Avonite surfaces, Fig. 3
Wallcovering: Wolf Gordon
Matthew Hall is a freelance writer/editor based in Cincinnati. It can be accessed at [email protected].