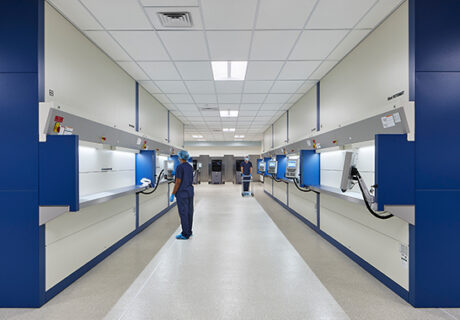 Sterile central processing departments, where surgical supplies and instruments are cleaned, sterilized, and assembled in case carts for upcoming procedures, are often moved to basements or other non-patient-facing areas, which are not always able to expand to accommodate operational changes, equipment, or storage needs says Brenda Bush Mullen, Vice President, Buildings, Global Health Sector Leader at your stank (Chicago).
Over time, these departments come under pressure and staff end up working in less than ideal conditions, or facilities seek other spaces for expansion, which could result in centralized sterile services spread across different floors or buildings. "It is very difficult to expand these spaces [staff] "It ends up working with what they have," says Scott Hof, director of Stantec (Philadelphia).
Medicine Ben He sought to address these facts while planning his new suite, a 1.5 million square foot facility that opened this fall for University of Pennsylvania Hospital of Philadelphia (HUP). However, an entire floor of the new 17-storey inpatient building would be required to meet its sterile central needs, a fact that inspired the organization to consider building an off-site department instead. Realizing that many of its existing buildings also face space constraints, Penn Medicine decided to build a 100,000-square-foot Interventional Support Center (ISC) that would handle device processing services for multiple locations, including a HUP, three outpatient facilities, and a future ward . "They thought they could build a better space off campus from all the sites and build a better process," says Hof. Stantec led the project management, architecture, interior design and MEP design for the project.
The new facility opened in February and is located in a warehouse in southwest Philadelphia. Designed with a unidirectional forward flow, used supplies arrive on case carts and are electronically scanned for traceability before moving to the decontamination area of ​​14 three-sink tanks for ultrasonic cleaning and disinfection, says Chris Pastor, managing director of the ISC at Penn Medicine. They are then taken to an assembly area with 28 ergonomically designed workstations where employees place tools in trays for sterilization and use for future cases. Drawers are stored in the facility's 20 high-density filing units, which function like vertical rotors with each unit dedicated to a hospital and department. Each afternoon, supplies are collected for the next day's procedures and assembled in box carts, which are organized in a dispatch lobby for collection by a local carrier contracted to handle the round-the-clock movement of supplies between the ISC and each facility.
Pasteur says while all facilities are still required by the state to have some level of on-site hardware processing, about 80 percent of the trays that are regularly processed in hospitals come to the new ISC facility. "By moving our treatment operations from a traditional hospital setting to a dedicated off-site facility, we can increase efficiency in a high-quality, cost-effective way — all while keeping pace with growing demand," he says.