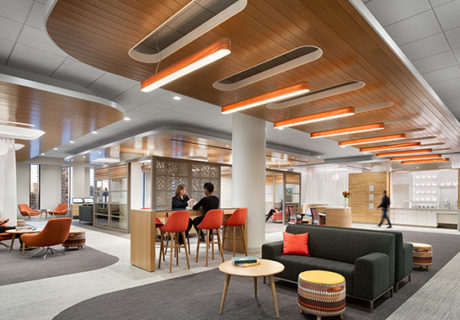 As a long-time leader in cancer treatment, Memorial Sloan Kettering (MSK) has set out to build a new outpatient facility in a way that could serve as a model for cancer care in the 21st century. Acknowledging design and technology as a key element in achieving this goal, MSK enlisted ICrave (New York) to lead the trial design strategy at David H. Koch Cancer Care Center in Manhattan, having previously collaborated at the Josie Robertson Center for Surgery at MSK in New York.
Together, the organizations embarked on a mission to reinvent how people experience cancer treatment in the 750,000-square-foot, 25-storey project that was completed in January 2020. The team began examining the experience at every turn and the countless ways a patient was using – plus To their families, caregivers and medical teams – they can have a better, more productive experience.
This was all the more important given the massive amount of time patients and members of their support networks would spend in the facility, which inspired the team to design a project that would help all construction users better use that time. Here are the four approaches introduced at the David H. Koch Cancer Care Center, ideas that may benefit other healthcare settings.
Give patients a choice
The primary focus of the project has been to give patients more control at a time when control appears to be out of their hands. To do this, the building is designed into three different types of floors: restoration, recreation, and activation. These patterns are then repeated in groups of three throughout the building, so no patient is more than a few floors away from each. These distinct environments represent different styles of engagement, sound quality, video calling, and discovery. For example, restoration floors feature small libraries, meditation huts, and intimate seating areas for private conversations. Activation and recreation floors provide more open environments where patients are encouraged to meet, discover and share. Recreation floors add cafes with kitchens and large islands for gathering as well as flexible spaces for exercise lessons, while revitalization floors store games and puzzles on communal tables and feature community-oriented seating areas.
With the goal of enabling patients to dedicate the time they would normally spend waiting towards something more productive, dedicated Real-Time Location System (RTLS) technology helps achieve this. Thanks to RTLS, both patients and caregivers are no longer associated with a specific clinic or area of ​​the hospital. The technology will alert them when the appointment starts rather than waiting for them to name the name.
Meet the needs of the employees
Supported medical staff lead to a more efficient and effective team. Given the role the building plays in the lives of doctors and nurses, the project team addressed everything from night shift changes in a 24-hour facility to mapping room designs that can accommodate both collaborative discussions and private conversations.
Through ICrave research, MSK team members have shared how they should prepare to give their all to support patients undergoing cancer treatment. The design team came to think of this as "appropriate" and created spaces where this process could take place. Employees also need spaces to relax, both physically and emotionally – areas that respond to the fact that someone might be a great nurse, but they're also a parent who needs to know how to get kids out of football practice. Therefore, it became important to create spaces that cater to all of these changing states of mind while also allowing community and camaraderie to thrive.
For example, the main staff lounge on the tenth floor is divided into a variety of seating types, with the realization that they need to work differently for each individual as well as throughout the day. The space is flexible enough to be taken over for a quiet moment, a nurse, or a birthday gathering around a kitchen island. Then, on the sixth floor, the living room lounge is adjacent to the main conference hall and coffee shop, where employees can enjoy a casual and relaxed area that promotes interdisciplinary communication.
Family Welfare Support
Often the group of people who are not placed much emphasis on designing a cancer center is the network of family members, friends, and other caregivers who also spend a lot of time in the facility. They come together to share meals, celebrate birthdays and holidays, and visit long periods. For this reason, the family areas at the David H. Koch Cancer Care Center are designed as chimneys and a place for larger groups to use for all kinds of events. These spaces are intentionally located in the corners of each patient floor near the entrance. By moving the bays of the unit to accommodate the fireplace, all who enter the unit are immediately greeted and then visually connected, building an awareness of shared comfort. The space also supports patients' desire to spend time with their loved ones as they normally would. For example, ICrave's research with MSK led to the idea "I'm not just a patient; I'm also a mother, father, big sister, etc." Fireside enables patients to spend special moments with loved ones and supports their walk while recovering as well.
Additionally, the team has created a space in an inpatient room (the facility has one floor for inpatients) – a small office built into the foot wall where caregivers can easily work or fill out forms. Another solution has been incorporated into the corridors, in which corners with benches have been created to serve as caregiver access stations that visitors can use when asked to wait outside during their medical treatment.
Take everyone into consideration
While thoughtful solutions were required for each unique building user, it was also important to recognize how design could support interaction and collaboration between all groups that spend time there: patients, caregivers, clinicians, and staff. The goal of designing the experiment was to create a facility in which all of these groups feel welcome and the barriers that normally exist between them are removed. In some cases, these barriers may be physical, such as removing desks to create more human interactions and one between patients and staff upon check-in. In other cases, these drawbacks may be the lack of warmth and hospitality that puts everyone in tension, which has been resolved through smart lighting, home furnishings, and a new art program, among other things. In MSK's case, the organization is already a leader in cancer research and treatment, so the goal at the David H. Koch Cancer Care Center was to drive a transformation in how cancer treatment spaces are experienced by all.
Lionel Ohayon is the founder and CEO of ICREF (New York). It can be accessed at l[email protected].