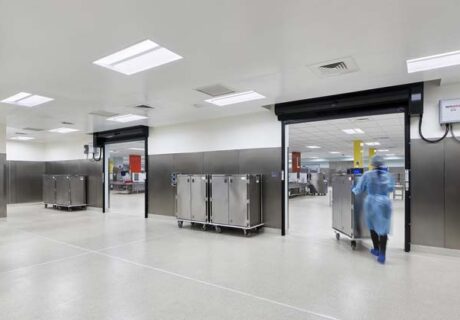 In pursuit of new solutions to improve efficiency and increase quality, Penn Medicine envisioned establishing a new Offsite Interventional Support Center (ISC) as a comprehensive facility to support multiple facilities throughout the Philadelphia region. The ISC sterilizes surgical instruments, sterilizes linens, and centrally stores surgical supplies and soft goods. The standardization of services at the ISC will standardize the treatment of tools, tool kits, and intangible goods across the health system. The International Support Center will allow storage space for an extended inventory of available supplies. Case vans will be transported to and from the ISC from various facilities in temperature-controlled trucks on a set schedule to facilitate maximum efficiency.
The Stantec team integrated healthcare planners, architects, designers, engineers and industrial designers to design the new facility. The solutions were tested and validated using temporal motion studies and simulation modeling to identify gaps and bottlenecks in the flow.
The facility supports a one-way forward flow for handling tools starting with the arrival of soiled tools in trolleys with closed casings and closed in the dirt loading dock. Case wagons are brought through a series of air-sealed vestibules to the decontamination area. The tools are then unloaded from case carts, processed in a series of scrubbing troughs and then sent through a washer/disinfection to the collected sterilization area. Once assembled and rolled up, the kits are loaded by passing through autoclaves or low-temperature sterilizers. The sterile kits are then brought to the sterile storage area to be loaded onto high-density vertical storage units. The kits are then paired with soft goods from Metro's wire rack and assembled into clean state carts. Clean and assembled case vans are assembled and queued in a gas-sealed vestibule next to the clean loading dock where they will be loaded onto trucks for delivery to their designated locations. A clean loading dock will also receive clean supplies, linens, and soft goods. These clean supplies are brought into the breakdown room, disassembled and brought through the vestibule for storage in the sterile storage area. Likewise, linens are sterilized and stored before being shipped to each facility.
The facility features N+1 redundancy in all build systems including full generator backup. Air systems include HEPA filtration for all instrument handling and storage spaces. The separate administrative group includes office spaces and workstations for employees. Staff amenities include a break room, meeting room, mother's room, and male and female locker rooms.
Project Category: Reshape / Refurbish
operation manager: Christopher Pasteur, MD, Center for Interventional Support, Penn Medicine
Establishment: Stantec Architecture and Engineering LLC, www.stantec.com
design team: Stantec Architecture and Engineering LLC (Planning, Architecture, Interior Design, MEP/FP Engineering and Industrial Design); Stantec Consulting Services Inc. (Project manager) ; O'Donnell & Naccarato Inc. (construction Engineering) ; Pennoni (Civil Engineering); Healthcare Building Solutions (Medical Equipment Planning); Conceptus Inc. (Specification)
Total Building Area (Square Feet): 109,000
Construction cost / square meter. Foot: Unavailable
Total construction cost (excluding land): Unavailable
complete: January 2021