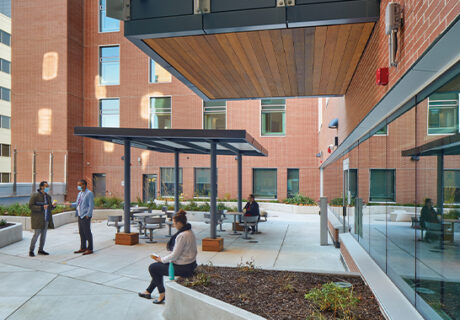 Canada's largest teaching hospital for mental health and addiction, the Center for Addiction and Mental Health (CAMH) in Toronto, embarked on a redevelopment journey in 2005 to rebuild the foundations of the 1850s asylum. The goal was to create an "urban village" that normalizes mental health treatment, in the community it serves.
Phase 1C, designed by Stantec Architecture Ltd. , adds 655,000 square feet through the McCain Care and Recovery Building, which houses public spaces and a resource center as well as the seven-story Crisis and Critical Care Building, which houses 235 inpatient and psychiatric beds. Emergency department, outpatient services, and outpatient treatment spaces. Distinctive features of the project celebrated by the jury include a strong remedial art program, open spaces overlooking nature, easy access to the outdoors, and integration with the surrounding urban fabric.
In addition, the operational efficiencies achieved through the project were commended, thanks to the integration of all clinical services as well as the emergency department in the same building, facilitating patient transfers. Innovations include a real-time GPS to allow patients more independence within the building and an educational kitchen where patients can learn life skills through a program developed with a local community college.